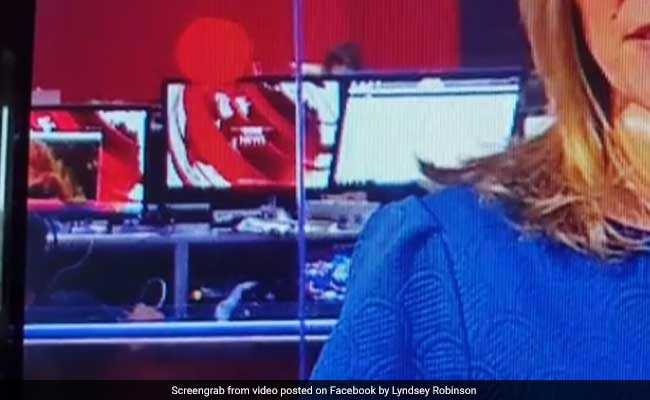 An alert viewer spotted a BBC employee watching a rather, umm, inappropriate video at work. The employee's computer screen was plainly visible behind an oblivious anchor delivering the news during a live broadcast on Monday night. The BBC viewer recorded a short portion of the news bulletin featuring the NSFW (not suitable for work) video and posted it to Facebook.
The 10-second video shows a man slumped low in his chair watching a video on his computer screen with headphones on. According to
reports
in the British media, the employee was watching a movie, when an inappropriate scene played out unexpectedly.
That didn't go unnoticed, however, as viewers quickly took to social media, asking if anyone else had noticed the x-rated scene play out on television.
"Did anyone else notice news last night on BBC??? Thought I was seeing things...but just re-watched on iplayer...nope I definitely saw what I thought I had," wrote Lyndsey Robinson on Facebook, posting the short clip as evidence of the embarrassing error.
@BBCNews why is there a porn video playing behind one of your news anchors during a report?

— Zane Jawad (@zanejawad) August 7, 2017
"This has gone down like a lead balloon at the BBC. It is totally unprofessional,"
The Sun
quoted a "TV source" as saying.
The BBC is believed to be investigating the incident. "We are establishing the facts," The Sun reported a BBC spokesperson as saying.Click for more
trending news