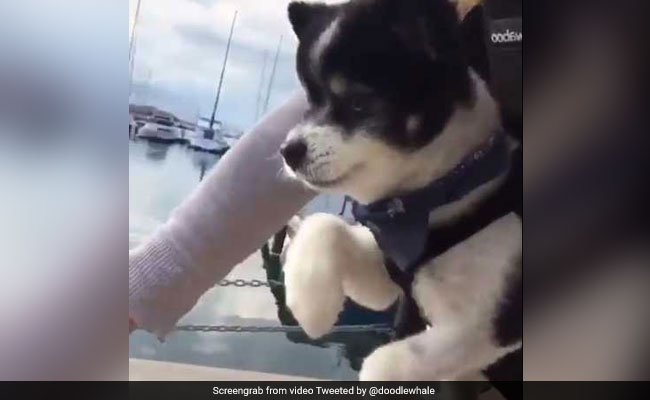 The Internet can often be a source of stress (Hello, Twitter) but every so often, a ray of light comes in the form of a viral video - most often featuring a cute baby animal. No wonder then that this video going massively viral on the micro-blogging platform features a husky puppy being its adorable self.
The video shows a pint-sized pooch enjoying a bike ride with its human and doing its best to "contribute." The pup pedals away with his paws, as it dangles mid-air while strapped into a harness attached to its human's chest. The unnamed pup's proud human looks amused as she cycles along a harbour front. It's unclear exactly where or when the footage was filmed.
The 15-second video was posted to Twitter by Stuart Rutherford with the caption: "That wholesome feeling when you think you are contributing but you really have no idea what you are doing."
The video has already been retweeted over 1.5 lakh times and been liked over 3.3 lakh times since Wednesday morning.
Watch the viral video below:
That wholesome feeling when you think you are contributing but you really have no idea what you are doing. pic.twitter.com/80JzQKrdkH

— Stuart Rutherford (@doodlewhale) July 4, 2017
Tweeple can't get enough of the cute puppy:
KEEP ON PEDALING LIL PUP U ARE DOING GREAThttps://t.co/76sMLLyuk1

— darth: (@darth) July 4, 2017
Puppy's working so hard. I'm so proud

— Amber Waters (@CozyKomala) July 5, 2017
@linzasaur bestill my beating heart

— Caitlin E Hamilton (@CaitlinEHam) July 5, 2017
I can't stop watching this

— Bry (@BryOnTour) July 5, 2017
This is the best thing I've seen today.

— Mike Morbid (@JMikeMorbid) July 5, 2017
That doggie knows he/she is contributing joy.

— Gladys Kravitz (@GK_Knows) July 4, 2017
This person tries to explain what may be happening:
I think the dog's swimming instinct kicking in, maybe because he was suspended. Anyway, it's freaking adorable.

— Max Weiss (@maxthegirl) July 5, 2017
Keep pedalling, little guy:
keep pedaling because you never know what'll happen pic.twitter.com/Y86t60xXAq

— John Schwartz (@jswatz) July 4, 2017
Click for more
trending news