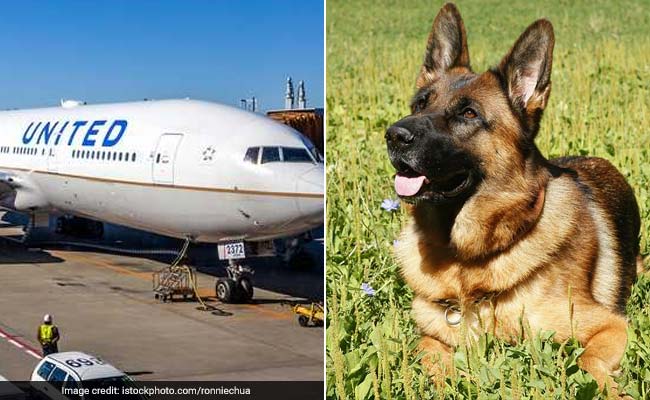 It's been a frightening week for dog owners considering putting their pet on plane.
First, there was a report Tuesday that a puppy died on a United Airlines flight after a flight attendant demanded that the dog's owner stow him inside the overhead compartment for the duration of a three-hour flight.
Now, this: A Kansas-bound German shepherd may have mistakenly been shipped to Japan by - you guessed it - United Airlines.
According to KCTV in Kansas City, Missouri, a family moving from Oregon to Wichita paid to have their dog, Irgo, shipped as cargo on a United flight.
But when the family went to United's cargo center at the Kansas City airport, they were met by a Great Dane that was inside a pet carrier that looked similar to Irgo's. United staff determined that the Great Dane was supposed to have been en route to Japan, and that Irgo could possibly be on the plane to Japan instead.
When Irgo's family spoke to KCTV on Tuesday, United still wasn't certain of exactly where Irgo had gone. At the time, they were waiting for the Japan-bound flight to land so they could check the cargo hold and see if the German shepherd was inside.
"I just want to know where my dog is. Like, the fact that we have no idea is the most frustrating part," Kara Swindle, Irgo's owner, told the TV station. "Because he could be in Kansas City and we'd have no idea, because the paperwork is all messed up."
"It's just horrible," Swindle added.
Now, according to a statement from United Airlines, Irgo has been located and is en route back to his family.
The mix-up actually occurred during a connection in Denver, the airline said.
"An error occurred during connections in Denver for two pets sent to the wrong destinations, the statement said. "We have notified our customers that their pets have arrived safely and will arrange to return the pets to them as soon as possible."
"We apologize for this mistake and are following up with the vendor kennel where they were kept overnight to understand what happened," United said.
The U.S. Department of Transportation tracks incidents of death or injury to animals that are transported on major U.S. air carriers. In 2017, there were 24 deaths reported of the half-million animals transported by air - 0.79 deaths per 10,000 animals transported - and three-quarters of those deaths occurred on United Airlines.
The Department of Transportation also tracks incidents in which animals were lost. There was only one such recorded incident in 2017, which occurred on Alaska Airlines, though it was unclear in that recent DOT report whether an incident is counted as a "loss" if an animal is temporarily misplaced and later delivered to its owner.
(Except for the headline, this story has not been edited by NDTV staff and is published from a syndicated feed.)
Click for more
trending news