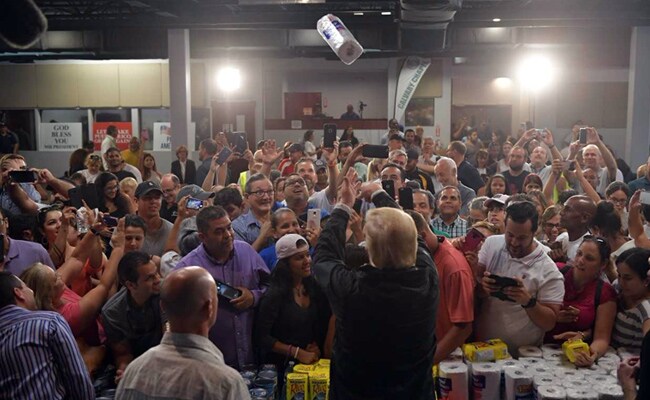 In a trip meant to battle criticism of his administration's response to the ongoing disaster, US President Donald Trump arrived in Puerto Rico to meet with survivors of Hurricane Maria.
President Trump shook hands with storm survivors and told them to be "proud" the island did not lose more lives to Hurricane Maria.
The US president, along with First Lady Melania Trump, visited the middle class suburb of Guaynabo where he asked residents about their homes, posed for photos and stopped at the Cavalry Chapel along the way to shoot rolls of paper towel basketball-style into a crowd snapping pictures on their cellphones.
That last gesture angered more people than it pleased, especially on Twitter.
A journalist posted a video of President Trump shooting paper towel rolls into the crowd
There's video of Trump shooting paper towels into the crowd and it does not disappoint pic.twitter.com/KPfJ1AeAqk

— Caleb Ecarma (@calebecarma) October 3, 2017
And people did not react kindly to it
is it edible? can they drink it? does it give them immediate cell phone service? Is a generator wrapped inside? surely i'm missing something

— mark a guerrero (@markgLSU) October 3, 2017
The president is throwing paper towel rolls into the crowd in Puerto Rico like a t-shirt cannon at a sporting event. 2017, man.

— Katie Leach (@KatieMLeach) October 3, 2017
It disappoints! It disappoints me to see my people desperate and the "president" thinks he's at a Knicks game.

— Clara10 (@Claryse2) October 3, 2017
Only an idiot would offer disaster relief by acting like a mascot at a pep rally. What's worse is that he also happens to be the president.

— Phillip Johnson (@phijson) October 3, 2017
This is humiliating. It's not throwing out Tee-Shirts at an NBA game...

— JEFSantamonica (@JEFSantaMonica) October 3, 2017
Trump in Puerto Rico handing out paper towels like he's Kobe smh pic.twitter.com/gZiAmUoS6d

— Shit Mexicans Do (@SOMEXlCAN) October 3, 2017
THIS ISN'T A GIVEAWAY YOU'RE NOT OPRAH THESE ARE ESSENTIAL ITEMS THESE PEOPLE NEED TO SURVIVE https://t.co/dTSReZykwe

— marcos j. pumpkins (@unclesahm) October 3, 2017
Nearly two weeks after Maria hit Puerto Rico, much of the island remains short of food and without access to power or drinking water.
(With AFP inputs)
Click for more
trending news