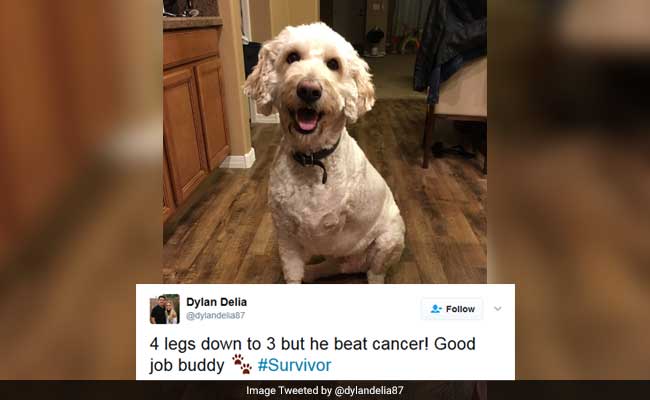 New Delhi:
On April 14, Twitter user Dylan Delia posted pictures of his dog who beat cancer to be a healthy, happy puppy again. According to
Mashable
, he received a life-saving surgery where a front leg had to be amputated, but he emerged a survivor and look how happy he is now!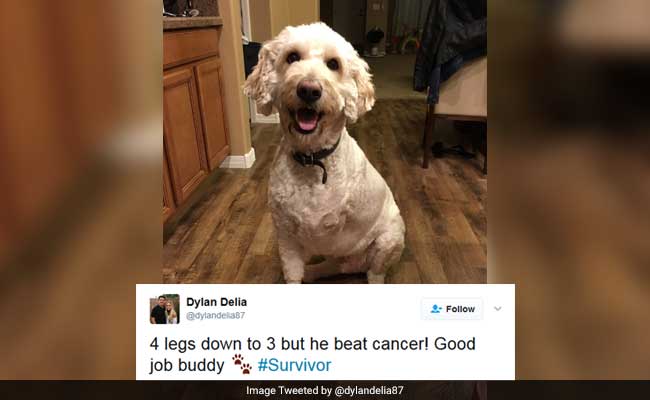 The most heartwarming thing about the whole incident, aside from the happy pupper's recovery, was the Internet's reaction. Dylan's tweet about his dog's loss of leg and cancer recovery was bombarded with pictures of other three-legged animals. Dogs, cats and humans came together to celebrate. Have a look:
Everyone was very encouraging
@dylandelia87@bennykoval Daisy says u don't need four legs to be urself and have a good time!! pic.twitter.com/alWpJF2t55

- apes debemus imitari (@SapphoFanClub) April 19, 2017
@dylandelia87@dog_rates he'll feel so much better and get the hang of three legs quickly, promise! I know my pup feels better! pic.twitter.com/o04ls2epS5

- hannah bettis (@hannahcbettis) April 19, 2017
And soon the thread was full of happy three-legged dogs
@dylandelia87 I have a tripod doggo too! pic.twitter.com/FwGxRnuO4v

- Andrea (@TheDinoPrincess) April 18, 2017
@dylandelia87 Twins! pic.twitter.com/Luze02NNJ7

- lilly (@LillianPiccolo) April 19, 2017
@dylandelia87@Bethany_a11 Ugh I love 3 legged dogs! pic.twitter.com/MPR2KLdPP9

- Isabella (@Bellaaa_7) April 18, 2017
@dylandelia87@dog_rates I also have a three legged doggo pic.twitter.com/fHPjNY1ltf

- Jason (@JeckLM) April 19, 2017
And a cat to match...
@dylandelia87@deefizzy Awe what a cutie I have a three legged cat to match pic.twitter.com/6HLx9hP1kF

- Ashley (@3Ashleyt) April 19, 2017
Of course, people had a lot of feels...
@dylandelia87@KikeIsGuappic.twitter.com/k76uqU1B8x

- Osmara Castro (@Osmaraaa_c) April 18, 2017
A LOT of feels
@dylandelia87@iheartayannapic.twitter.com/xDOqkX2SBH

- mikayla (@mikayla_lachell) April 18, 2017
@dylandelia87@deefizzypic.twitter.com/ZgmdjfMI9Z

- natalia (@natbellapodaca) April 19, 2017
Well, we're just glad that Dylan's wonderful dog is feeling better.
Click
here for more trending stories.