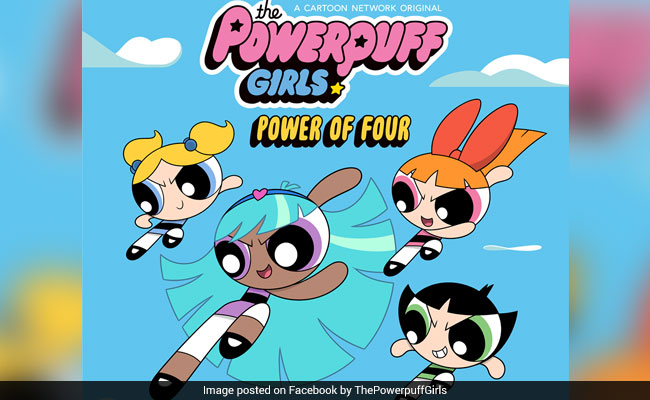 The Powerpuff Girls have gone from being a terrific trio to a fantastic foursome. That's right! Cartoon Network introduced Bliss, the long-lost older sister to Blossom, Bubbles and Buttercup, to the world on Sunday. And while the inclusion of the blue-haired Powerpuff Girl has many on the Internet cheering, some are surprisingly unhappy.
Blisstina - "Bliss" for short - made her on-screen debut on Sunday in
The Powerpuff Girls: Power of Four
. According to Cartoon Network, long before he created Blossom, Bubbles and Buttercup, Professor Utonium created a little girl named Bliss. But, she mysteriously disappeared. Years later, as a teenager, Bliss returned to discover she has three superhero sisters.
The presence of the dark-skinned superhero - whose race was not explicitly referred to in the episode - has the Internet freaking out:
I still can't believe it the first ever black #PowerpuffGirls on this cartoon pic.twitter.com/5fwSiaI7Hp

— Jesterslayer (@brutalpuncher1) September 17, 2017
OMG YESS Bliss is so cute omg :3 LOOK AT HER!

— Abipop (@abipop) September 17, 2017
Might have to watch Powerpuff girls in my 20s to check Bliss out! Love her already https://t.co/tvBrocetPH

— Delphinium (@dj_borntoread) September 18, 2017
Some even see an uncanny resemblance to American rapper Nicki Minaj:
Introducing the new powerpuff girl, NICKI MINAJ! #PowerPuffGirlspic.twitter.com/XBVTJkRLHL

— ShawnTee (@perrypherals) September 10, 2017
I knew the new powerpuff girl looked familiar #PowerpuffGirls#Blisspic.twitter.com/2hM9ltEx09

— Jeffrey Cano (@muthaducker666) September 18, 2017
But it isn't all sugar, spice and everything nice. The Internet has found plenty of things to be unhappy about, including the fact that Bliss is "unfairly replacing" Bunny, who some call the "original" fourth Powerpuff Girl.
Let's not forget the original 4th Powerpuff Girl. #powerpuffgirlspic.twitter.com/7e1yhrDFkB

— Zaxle (@itszaxle) September 18, 2017
In a previous episode, Blossom, Bubbles and Buttercup tried to create their own Powerpuff Girl - an experiment which resulted in the birth, and subsequent death, of a "Frankenpuff" named Bunny.
Of course, plenty of people are shutting down criticism of Bliss:
It's amazing how many trolls that never watched #powerpuffgirls suddenly pop up because of Bliss. pic.twitter.com/N9T1CF73Iy

— Ladybuglizzie (@sagevalentine) September 17, 2017
Women from around the world are lending their voices to the character of Bliss. Here's a small glimpse of Bliss in action:
What do you think on the newest Powerpuff Girl? Let us know in the comments section below!Click for more
trending news