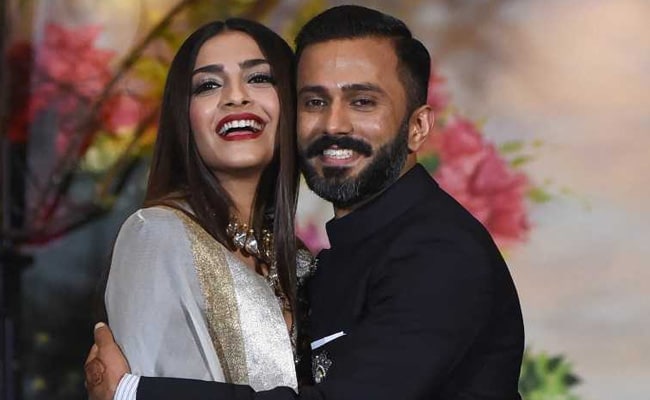 New Delhi:
By now, you may have had your fair share of pictures and videos from
actor Sonam Kapoor and Delhi-based businessman Anand Ahuja's wedding
. But chances are you still feel
abhi mann nahi bhara
. The couple's wedding has been a grand, star-studded event that has had people refreshing their social media feeds by the minute for updates. It wouldn't be a surprise if you were among those who stayed up late last night just to catch every little thing that happened during
Sonam Kapoor and Anand Ahuja
's grand reception on Tuesday night. So what is it about this wedding that has had us all hooked? Well, to put it simply, it's been the Bollywood
shaadi
of our dreams.
Sonam Kapoor and Anand Ahuja's wedding sums up our love for Bollywood shaadis. Here's how:1. All the amazing celeb sightings
Well, no one can argue that for someone sitting at home or office scrolling through Twitter and Instagram, it's the pictures of all the famous guests that makes you wish you were also there. And let's face it, you love how the stars pose for shutterbugs before going inside the venue. The whole, who-came-with-whom and who-wore-what makes scrolling through Instagram only that much more exciting. Sonam Kapoor and Anand Ahuja's wedding had a flurry of A-listers right from the
mehendi
function to the wedding and then, the grand reception. The guest list included Amitabh Bachchan, Shah Rukh Khan with wife Gauri, Salman Khan, Aamir Khan, Alia Bhatt, Ranbir Kapoor, Kareena and Karisma Kapoor with Saif Ali Khan and many, many more.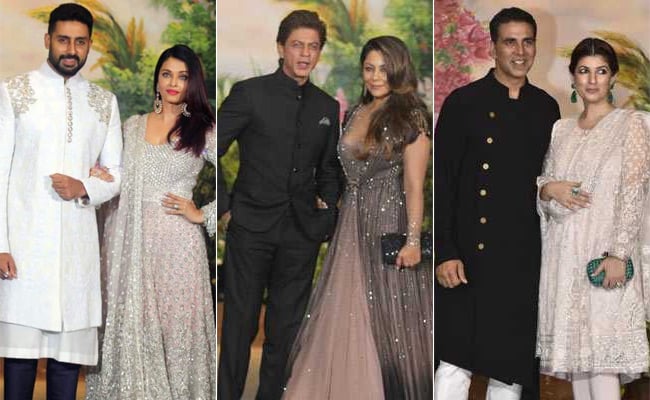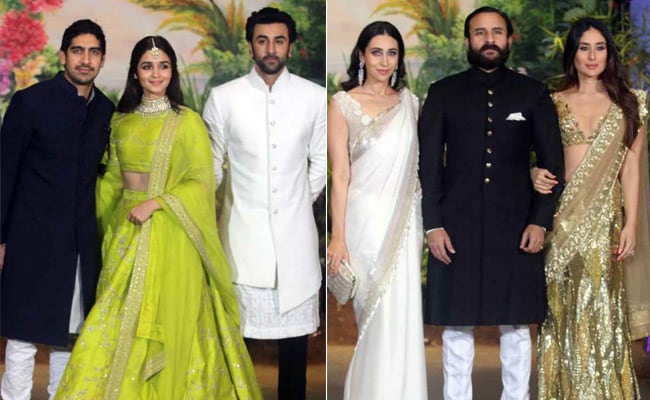 2. The glitz and glamour. Kyun ki "fashion ka hai yeh jalwa"
Well, everyone knows the whole who-wore-what thing becomes extremely important during such shindigs. And since this was a bona fide fashionista's wedding, the outfits everyone wore just meant that much more. Right from waiting for Sonam's first picture in her bridal look to seeing what all the other stars are wearing, we all love the fashion on display. There's also that silent desire to dress the same way at the next wedding we're attending and we can only thank the stars for the fashion inspo. Thanks Sonam, for letting us know we can go a little quirky and cool for wedding receptions. And Anand, so many men will be glad you wore sneakers at your reception. Consider this a trend in the making!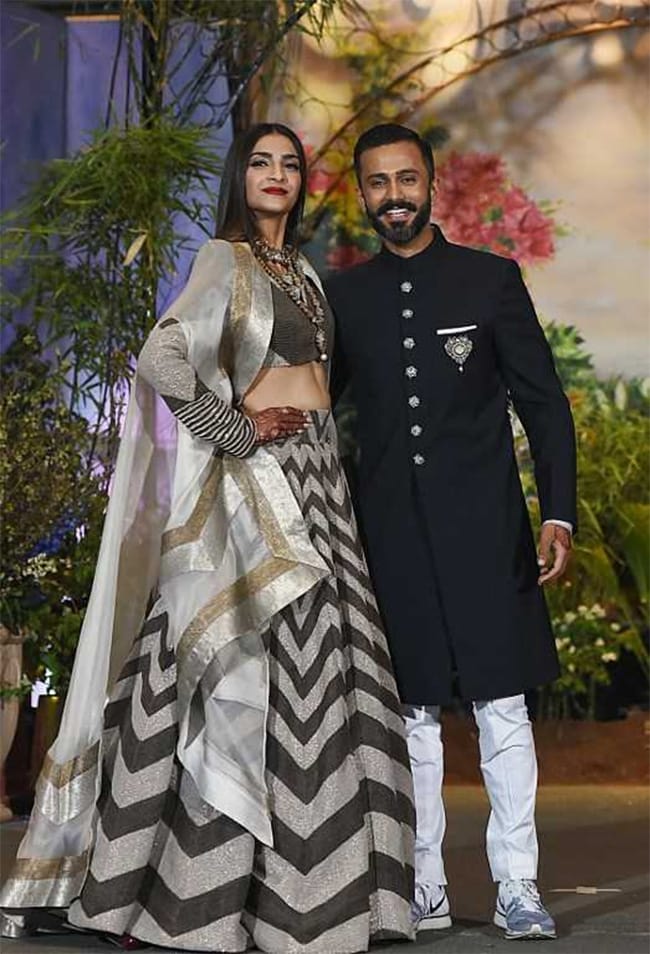 3. All the awesome dance (and music) performances
Sonam's reception last night was momentarily overshadowed by all the special performances by Salman Khan and Shah Rukh Khan. The two Khans danced the night away with father of the bride Anil Kapoor and even serenaded mother of the bride Sunita Kapoor with a special rendition of
Yeh Bandhan Toh
from the '90s classic
Karan Arjun
. Bollywood's resident "babas" Arjun Kapoor and Ranveer Singh did their own thing, including a hilarious late-night Instagram Live. Singers Mika, Sukhbir and rapper Badshah also performed at the various wedding functions. There were also specially choreographed dance performances by the couple's friends and family. And everyone graciously posted all those videos for us lesser mortals to see and enjoy... multiple times.
4. The social media madness
Talking about posting all the updates from the wedding, the stars really made sure their social media feeds were up to date with all the exciting happenings at Sonam and Anand's wedding. And netizens lapped up all the exciting deets. And then there are all these
hilarious reactions on Twitter
that have you laughing out loud. What's not to love?
I have seen more photos and videos of Sonam Kapoor's wedding than my own wedding.

- Sapan Verma (@sapanv) May 8, 2018
Can't believe @sonamakapoor actually got married to promote Veere Di Wedding, insane how far movie promotions have come

- Tanmay Bhat (@thetanmay) May 7, 2018
5. The little moments filled with big emotion
It's always amazing to see how larger-than-life Bollywood weddings can be with celebrity guests, venues as elaborate as in Karan Johar films and all the latest fashion out on display. But what makes Bollywood weddings even more special are those warm, relatable moments. Videos that show Sonam's sisters tying her
kaleeras
, the
sindoor
and
varmala
ceremonies and the way Sonam and Anand cut their cake at the reception and offered each other's parents a bite prove celebrities are more like us than we might imagine at first.
Actor Sonam Kapoor and Delhi-based businessman Anand Ahuja were married in a traditional Sikh ceremony on Tuesday morning. After a pre-
mehendi
ceremony April 6, the couple had an official
mehendi
party followed by their wedding the next day. Last evening, Sonam Kapoor and Anand Ahuja's families hosted a star-studded reception for the newlyweds at The Leela in Mumbai. The guest-list included the who's who of Bollywood including Salman Khan, Shah Rukh Khan, Ranveer Singh, Kareena Kapoor, Alia Bhatt, Abhishek and Aishwarya Rai Bachchan, Katrina Kaif and Saif Ali Khan among others. Videos of the stars dancing the night away have flooded social media.Click for more
trending news