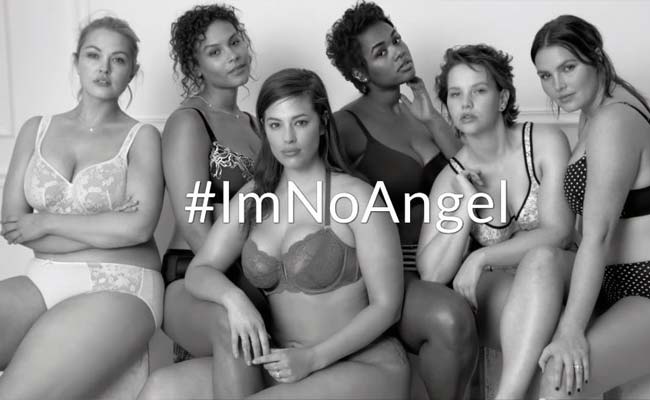 In an attempt to redefine the term "sexy", Lane Bryant - the plus-size lingerie retailor has launched an ad campaign featuring six famous (and gorgeous) plus-sized models wearing their new line, talking about what they think makes them sexy. What's more, they end the ad by proclaiming "I'm no angel" making a not-so-subtle dig at popular lingerie brand Victoria's Secret.
Victoria's Secret has come under fire for promoting unrealistic body standards with their "The Perfect Body" ads displaying women with slender and slim bodies. Post the flak they received on Social Media, the brand changed their slogan to "A Body For Every Body."
Now many women have taken to Twitter and Instagram to give Lane Bryant's #IMNOANGEL campaign a thumb's up. Women are also posting their own pictures on to the Social Networking sites using the hashtag.
Contrary to what we see on the media. We are not all supposed to look the same. #ImNoAngel#bodyimagepic.twitter.com/cOGyxqlote

- Laura Marie (@lauramariescott) April 9, 2015
I strongly dislike the term 'Real Women'. All women are real. Body shaming has got to stop. Curvy or slender, you're real. #ImNoAngel

- Laura Marie (@lauramariescott) April 9, 2015
Weird and beautiful. Thanks to all the lovelies who gave me the courage to post this. #selflove2k15#ImNoAngelpic.twitter.com/2w9nGJtbi8

- Kat G. (@katwithauke) April 10, 2015
#ImNoAngelpic.twitter.com/wPj3qBDfdr

- Amber Rouleau (@amberdawn030) April 10, 2015
#ImNoAngel campaign is giving me LIFE

- KENYA MOORE (@KenyaMoore) April 7, 2015
This is amazing! About time average sized women were on a billboard! #ImNoAngelpic.twitter.com/DqW5sfFx1m

- Monique Lynette... (@MmmCatMama) April 7, 2015
Shout out to @LaneBryant for the #ImNoAngel campaign. Very relevant and necessary. pic.twitter.com/WvwJo79X9S

- (@callmedollar) April 6, 2015
Seriously LOVING the @lanebryant#ImNoAngel campaign - VS has presented a narrow standard of sexiness for too long. pic.twitter.com/94ZTs81Z6o

- Sarah aka Curvily (@Curvily) April 6, 2015
Many others however are pointing out that campaign is unintentionally pitting different body types against each other.
Why is it necessary to tear other women down in order to build yourself up? #ImNoAngel#yousurearent

- Dr. Johnson-Verwayne (@StandardofCare1) April 10, 2015
Disappointing the #ImNoAngel campaign has to tear down the way other women look to prove a point or boost their own self esteem.

- Katie Pavlich (@KatiePavlich) April 8, 2015
Hey @LaneBryant, if empowering all women was the goal, a more unifying hashtag would've been the way to go. #ImNoAngel is kinda divisive.

- Jedediah Bila (@JedediahBila) April 9, 2015
The only thing I'm saying about #ImNoAngel: can we have body-positive campaigns that don't pit body types against each other/shame bodies?

- Britni (@britnidlc) April 7, 2015
okay i appreciate what lane bryant is doing by their #ImNoAngel campaign but theyre still using women who are the "conventional" plus size.

- Libby (@Libbayy) April 10, 2015