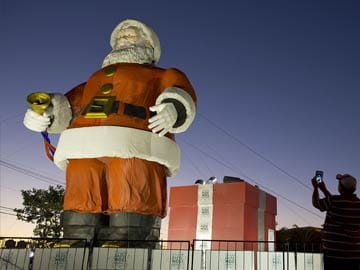 Ottawa:
Canada vowed on Tuesday to defend the North Pole and Santa Claus, insisting the mythical figure is a citizen, after Russia ordered its military to step up its Arctic presence.
Paul Calandra, parliamentary secretary to the prime minister, cited Canada's claim of the North Pole to bash an opposition party in Parliament.
"We are defending the north further by making a claim on the North Pole," he said.
"We know that the (opposition) Liberals do not think that the North Pole or Santa Claus are in Canada. We do. We are going to make sure that we protect them as best we can."
Liberal Leader Justin Trudeau agreed, saying: "Everyone knows that Santa Claus is Canadian.
"His postal code is H0H 0H0," he said, alluding to a mailing address assigned to Santa by Canada Post. The postal service responds each year to tens of thousands of children's letters from around the world addressed to Santa Claus, North Pole, H0H 0H0, Canada.
The main opposition New Democratic Party, however, insisted that "Santa Claus is a citizen of the world."
The frosty exchange came after Canada signalled its intentions to claim the North Pole and surrounding Arctic waters while announcing Monday the filing of a UN application seeking to vastly expand its Atlantic sea boundary.
Russian President Vladimir Putin responded to the move by ordering the formation of new military units in the Arctic that are to remain on constant combat alert.
Russia, he said, was "ever more actively reclaiming this promising region, returning to it" after a brief absence that followed the Soviet Union's collapse.