New Delhi:
Highlights
Priyanka Chopra was dressed in a custom Ralph Lauren evening gown
She had to seek help getting up the stairs with her dress' long train
Discussions on the dress left Twitteratti in splits
Everyone's favourite
Desi Girl
Priyanka Chopra hit the red carpet at the Met Gala in New York City dressed in a custom Ralph Lauren evening gown, with a train so long it needed a dedicated helper to get her up the stairs. She even posed with singer Nick Jonas on the red carpet. This year, the Met Gala, dubbed fashion's biggest night, was a tribute to the avant-garde Japanese designer Rei Kawakubo who founded the fashion house Comme des Garcons. Fashionistas in the know were expecting the unexpected when it came to the red carpet. Ms Chopra delivered, and how.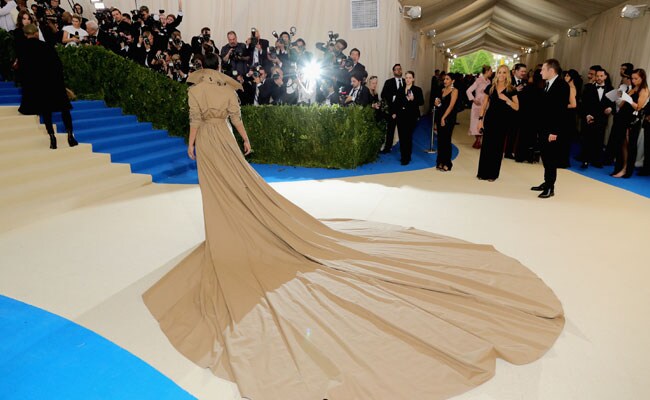 While the fashion police mostly gave Ms Chopra's unusual look a thumbs up, people on Twitter had a lot to say. Priyanka Chopra was trending on the microblogging site for most of the morning on Tuesday.
Many Indians made the same joke on Twitter:
@smitaprakash This is a dress designed for " Swach Bharat Abhiyan" . Love @priyankachopra for taking the message of @narendramodi to her heart.

- Brihaspati S. (@s_brihaspati) May 2, 2017
when you start taking Swachh Bharat mission seriously @priyankachopra
#MetGalapic.twitter.com/zZ3HjTkAjv

- Tushar Kumar (@tusharkumr) May 2, 2017
Seems Priyanka Chopra took @swachhbharat too seriously and thus started with Largest possible Broom to sweep the floor Well done pic.twitter.com/l3YmsAmp00

- (@Shivam_h9) May 2, 2017
This guy had a point:
Priyanka Chopra is sweeping Twitter TLs today. Literally.

- Sameer More (@Sammypedia) May 2, 2017
Now we know how all Indian moms reacted:
For all the times, your dupatta has barely touched the floor & mothers have screamed in hysteria 'Zameen pe lag raha hain'. This. pic.twitter.com/2R7J68TLtG

- Naomi Datta (@nowme_datta) May 2, 2017
This guy had a unique take on the khaki:
Priyanka Chopra is probably the most fashionable lady constable in Mumbai Police...take a bow girl pic.twitter.com/qQUxKsVOOr

- zooMIe... (@zoomphatak) May 2, 2017
This person wondered if that dress would be setting any records:
@priyankachopra trench coat will go in history for the longest trench coat first invented haha #metgala2017

- Priyanka fan (@bollylover123) May 2, 2017
This guy's got jokes:
Sunny Deol: apna luck pehen ke chalo



Priyanka Chopra : Apna bedsheet pehen ke chalo pic.twitter.com/PstkvCsGfB- Pakchikpak Raja Babu (@HaramiParindey) May 2, 2017
The jokes aren't stopping:
Twitter pe breaking news, haaye re mera ghaghara.
Punjab se leke Delhi via Agra. pic.twitter.com/J2scohWxnl

- Shashank (@Tumharebaap) May 2, 2017
And this one has a 'helpful' suggestion:
No need to fear rains during IPL.
Priyanka Chopra would alone cover the ground.#MetGalapic.twitter.com/15rtftjAi1

- Mayank Agarwal (@SociallyMayank) May 2, 2017
Close Enough, Priyanka Chopra !!! pic.twitter.com/thCtyIomK0

- Rightster (@TheRightster) May 2, 2017
For anyone comparing her to Inspector Gadget:
I don't know what Detective Priyanka Chopra is looking for, but she's sure as hell going to find it #MetGalapic.twitter.com/47gCiRhhRw

- Girlboss (@GIRLBOSS) May 1, 2017
So it seems:
PC defying the universe to try and trip her at #metgala2017pic.twitter.com/E3avoqcA6o

- Neha Yadav (@JustAnotherNY) May 1, 2017
But a lot of people really loved the dress:
Actually, this trench coat-gown by @RalphLauren on Priyanka Chopra is a weirdly great combo. #MetGalapic.twitter.com/bBZ8GQZsNT

- Vanessa Friedman (@VVFriedman) May 1, 2017
Can we take a moment 2 acknowledge how #PriyankaChopra is #metgala2017 . Like she's giving me #Beyonce#ringthealarm vibes and I love it pic.twitter.com/4zGqprvxMp

- Taelorism18 (@_____TaElOr____) May 2, 2017
Sometimes, you do not need to make any statement because YOU are THE statement. MET Gala is all about Priyanka Chopra...That's al!l#BOLD

- Juliet 'Kego (@julietkego) May 2, 2017
Everyone can give up forever. @priyankachopra won the MET Gala#metgala#metgala2017

- Coleen Carlson (@HerGrace13) May 2, 2017
And, in case you were wondering how she travelled in that dress, take a peek at her casually chilling in a stretch limo with Nick Jonas:
In a stretch luxury van to take the most amazing @priyankachopra and @nickjonas wearing @ralphlauren at the #metgalapic.twitter.com/BHEQmq45iO

- Andrew Day (@andrewdaystudio) May 2, 2017
Wonder if this is what he was thinking:
When finally met the girl you always stalk on Instagram. @priyankachopra@nickjonas#MetGalapic.twitter.com/DslXVxQFUq

- raleighn (@browngirlslays) May 2, 2017
Click
here for more trending stories
.
Get Breaking news, live coverage, and Latest News from India and around the world on NDTV.com. Catch all the Live TV action on NDTV 24x7 and NDTV India. Like us on Facebook or follow us on Twitter and Instagram for latest news and live news updates.