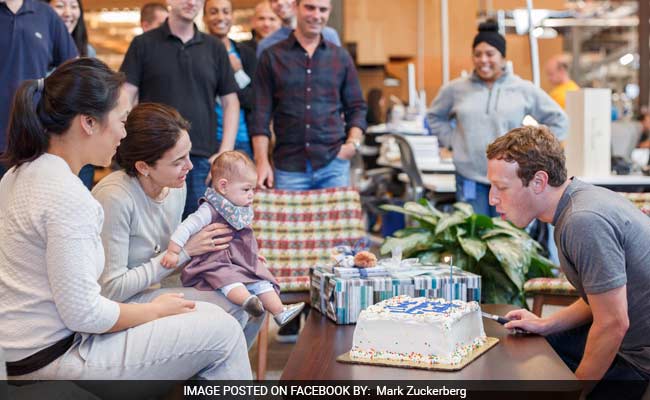 Highlights
Facebook CEO and founder Mark Zuckerberg turned 32 on Saturday
He took his young daughter Max to Facebook headquarters to celebrate
In a picture posted online, Max is seen seated on Sheryl Sandberg's lap
San Francisco:
Facebook CEO and founder Mark Zuckerberg had a special guest at his company headquarters to ring in his birthday - his baby daughter Max.
Zuckerberg, who turned 32 on Saturday, took to his Facebook page to announce the news about the little visitor at the California-based social network office.
"Max stopped by Facebook HQ to help celebrate my birthday," he posted.
"Thanks to everyone for so many nice messages. Here's to another year of connecting the world!" he wrote further.
The post was accompanied with an adorable photo of Max sitting on the lap of Facebook Chief Operating Officer Sheryl Sandberg beside mom Priscilla Chan and looking at her dad as he blows out a candle on the birthday cake.
"Max and I were thrilled to celebrate her dad's birthday together!" Sandberg wrote in a comment on Zuckerberg's post.
Following the birth of their daughter Maxima, both Zuckerberg and Chan pledged to give away 99 per cent of their company's shares worth a whopping USD 45 billion to make the world a "better place" for children.
Zuckerberg, who is one of the world's richest people with a fortune estimated at USD 51.8 billion, has actually made more money per day of living because of his young age than anybody else on the planet.
His "potent" combo of youth and wealth has averaged out to USD 4.4 million for every day he has been alive, according to CNBC calculations. That rate is bigger than anybody else on Forbes' list of billionaires.
Microsoft co-founder Bill Gates comes a distant second at USD 3.5 million per day.