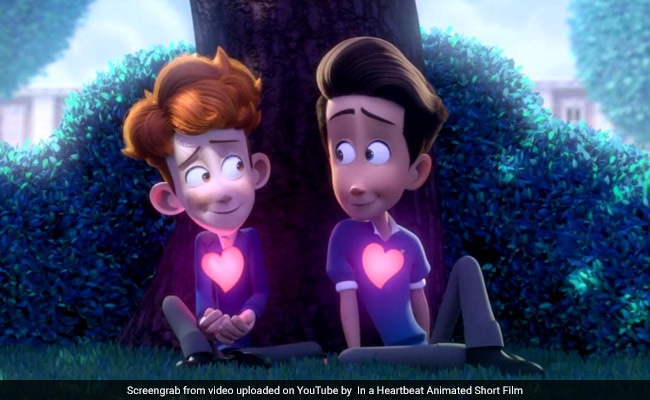 It's a story that'll touch your heart. A young boy has a crush and is terrified the object of his affections will find out about it. And yet, he risks being outed - quite literally - by his own heart. The animated short film, titled "In A Heartbeat," has been viewed over 14 million times on YouTube in just five days.
The short film, which has no dialogues and a moving musical score, begins with a school-aged boy trying desperately to calm his beating heart as "the boy of his dreams" walks past him. His love-sick heart "pops out of his chest" to chase after him and risks outing the boy.
Find out what happens next by watching the heartwarming short film below:
The film, posted to YouTube on Monday, was made by Beth David and Esteban Bravo, recent graduates of the Ringling School of Art and Design in Florida, US. The young filmmakers launched a crowd-sourcing campaign in 2016 to fund the project, which began as their college thesis project.
Just over four-minutes long, the film has already been 'liked' well over one million times on YouTube and has been met with an overwhelmingly positive reaction on social media.
All. The. Feels. We can all relate to this... https://t.co/LqjTU9UPcl

— HumanRightsCampaign (@HRC) July 31, 2017
my favorite thing about In a Heartbeat is the way that it perfectly illustrates that we cant control our hearts, we don't chose who we love pic.twitter.com/6X7NLnnez9

— zemmy (@caskrush) August 3, 2017
*watches #Inaheartbeat once*
Me: pic.twitter.com/VK6IgSDzn2

— Elizabeth Myers (@elizabethfmyers) July 31, 2017
I'm not crying you're crying #inaheartbeat#LoveIsLove@SBSsexuality@bbethdavidd@EstebanBravoPhttps://t.co/zMgK560lNa

— Janet Rice (@janet_rice) August 4, 2017
a concept: make in a heartbeat a full-length movie

— hallie (@feverdanieI) July 31, 2017
"With ("In a Heartbeat"), we wanted to challenge the preconceived notion that LGBTQ content is not appropriate or suitable for younger audiences," Mr Bravo tells
NBC News
. "It's an innocent and lighthearted story about a boy and his crush that we hope will resonate with younger people regardless of their background."Click for more
trending news