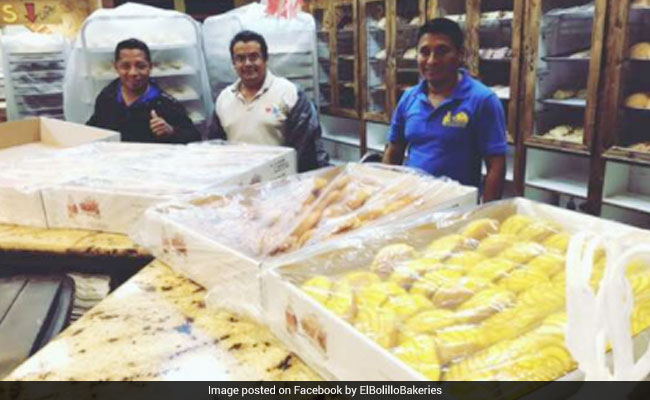 A heartwarming story of generosity has emerged from storm-hit Texas. Four Houston bakers, trapped inside their shop for two days, spent their time baking bread and sweet treats for others reeling under the "catastrophic" devastation of Hurricane Harvey - even as they waited to be rescued.
On Facebook, El Bolillo Bakery posted pictures of loaves of bread and trays of pan dulce - or Mexican sweet bread - that its employees baked as flood waters kept them trapped inside the shop for 48 hours.
The men, who were working a late shift, ended up stuck inside the bakery after water filled the road outside the store.
"When they realised they were stuck, they decided to keep themselves busy and help the community and made as many loaves of bread as they could," Brian Alvarado, the manager of the shop, told
The Independent
.
"By the time the owner managed to get to them, they had made so much bread that we took the loaves to loads of emergency centres across the city for people affected by the floods," Mr Alvarado added.
The bakers used nearly 2,000 kilograms of flour as they baked through the night and into the next day, according to
Chron.com
.
"Hurricane Harvey pan dulce we are going to take to those in need. Bakers were stuck inside for two days!" the bakery wrote in a caption accompanying the picture on Facebook. Since being uploaded on Monday, the post has been shared over 3,500 times.
The heartwarming act won the bakers the praise of many on Facebook:
Earlier, incredible footage showed
Houston residents forming a human chain to rescue a man trapped in his SUV
. The elderly man, who was successfully pulled from the sinking vehicle, ended up getting trapped after his SUV was swept away by rising flood waters.
Hurricane Harvey
made landfall during the weekend as a monster Category Four hurricane and later weakened to a tropical storm.
The rain has led to severe flooding
in parts of the state and
left large parts of Houston underwater
.Click for more
trending news