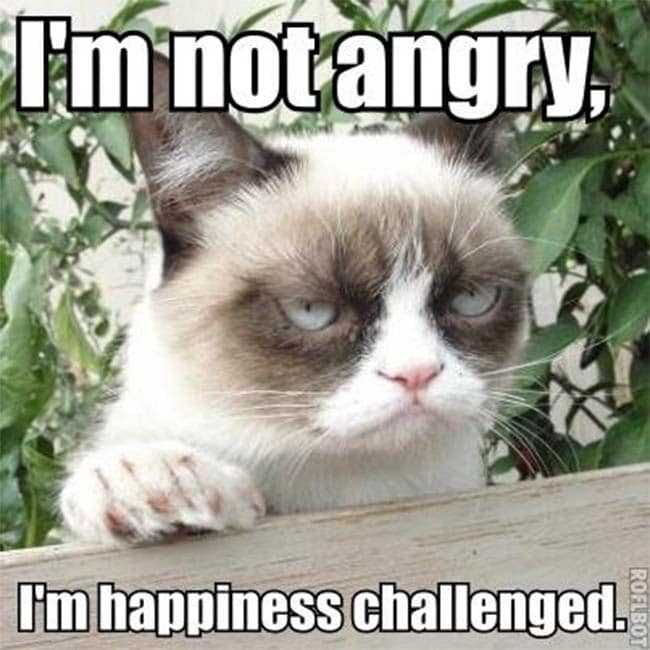 That's a million pound scowl, right there.
Feline superstar Grumpy Cat has no reason to stay grumpy anymore. The internet sensation - who has books, merchandise, a movie and countless viral videos and memes to her name - has made her human very rich. The perma-glum pet has apparently made 64 million pounds in just two years, making bigger bucks than many Hollywood stars.
Grumpy Cat, real name Tardar Source, shot to fame when her picture was posted on Reddit. Grumpy's look of permanent contempt proved a hit and soon memes and videos starring the cat's priceless expression began to go viral.
This is what Grumpy Cat's owner has to say about her pet's success: "She's unstoppable. What she's achieved in such a short time is unimaginable and absolutely mind-blowing. I was able to quit my job as a waitress within days of her first appearance on social media and the phone simply hasn't stopped ringing since," said Arizona native and former waitress Tabatha Bundesen
in this article
.
Grumpy's expression of concentrated malevolence is reportedly caused by dwarfism, which she was born with, and an underbite. She's probably a big ol' softie inside.
Grumpy also has a movie out soon - Grumpy Cat's Worst Christmas Ever (Grinch, move over. Christmas is no longer yours to steal). Until then, take a look at some of the funniest Grumpy Cat memes:
Source
Source
Source
Source