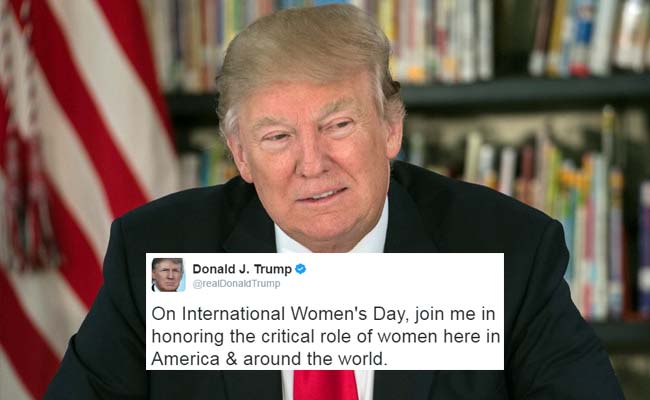 New Delhi:
It seems like our world leaders cannot take one single step on social media without being ridiculed for it. Yesterday, on International Women's Day, US President Donald Trump put out two tweets to honour 'the critical role of women here in America & around the world.' Almost instantly, users of Twitter started to troll him for his 'tremendous respect for women' statement. After all, the POTUS has been slammed in the past for his misogynistic remarks, and also the fact that he signed an anti-abortion executive order in the presence of only men.
Check out the cheekiest reactions to his Women's Day tweets below:
1. Some dug up his past
.@realDonaldTrump A true beacon of respect for women. https://t.co/Yxg4kJCR2spic.twitter.com/WhQz4g67z4

- Keegan Stephan (@KeeganNYC) March 8, 2017
2. Others were happy with some plain, old, good-fashioned trolling
@realDonaldTrump YES! Nobody has MORE respect for women than WE DO! We have the MOST RESPECT, the BIGGEST RESPECT, and the BEST RESPECT!

- Christoph Rehage (@crehage) March 8, 2017
3. Some got straight to the point
@realDonaldTrump Here's a thought: honor them with policy, not meaningless tweets

- Maria (@MariaMelee) March 8, 2017
@realDonaldTrump In 1993, you said it was "dangerous to put women to work". This belies the notion that WE CHOOSE THINGS.

- NastyPersist-er (@SChubrichSeep) March 8, 2017
4. While others couldn't resist pointing out the irony
@realDonaldTrump with The Donald's latest tweet, it appears that today is officially the day that irony died. #RIPpic.twitter.com/yG7rhZLarW

- Rob Szczerba (@RJSzczerba) March 8, 2017
5. Ouch
.@realDonaldTrump I'm not going to touch this, since Trump did already

- Roland Scahill (@rolandscahill) March 8, 2017
It's safe to assume that this wasn't the reaction that the President was hoping for.
On the other hand, Russian President Vladimir Putin also took to Twitter to wish his followers with this heartfelt tweet:
Today is International Women's Day. Congratulations from the President https://t.co/kxusMoQcIJpic.twitter.com/MY4zqRIJgC

- President of Russia (@KremlinRussia_E) March 8, 2017
It's important to remember that just last month, Mr Putin signed a law that decriminalized domestic abuse to a great extent.
1. Some were quick to remind him of that
@KremlinRussia_E thanks for your heartfelt respect. Shame you have decriminalised domestic violence though, leaving women without protection

- verityrhealey (@verityrhealey) March 8, 2017
2. Others just wanted to Photoshop him
.@KremlinRussia_Epic.twitter.com/WQGuc39nAI

- Pete Fraser (@petefrasermusic) March 8, 2017
3. Some took to gifs to express how they felt
@KremlinRussia_Epic.twitter.com/79hyTrkMDD

- First Time Trekker (@FirstTimeTrek) March 8, 2017
@KremlinRussia_Epic.twitter.com/Qt2jSf2IwR

- Bonnie Dean (@BonDean) March 8, 2017
4. While others just laughed at the irony
@KremlinRussia_Epic.twitter.com/C3ryIhKjeT

- Senator Palpatine (@owlbelief) March 8, 2017
Have something to add to the conversation? Let us know using the comments section below.