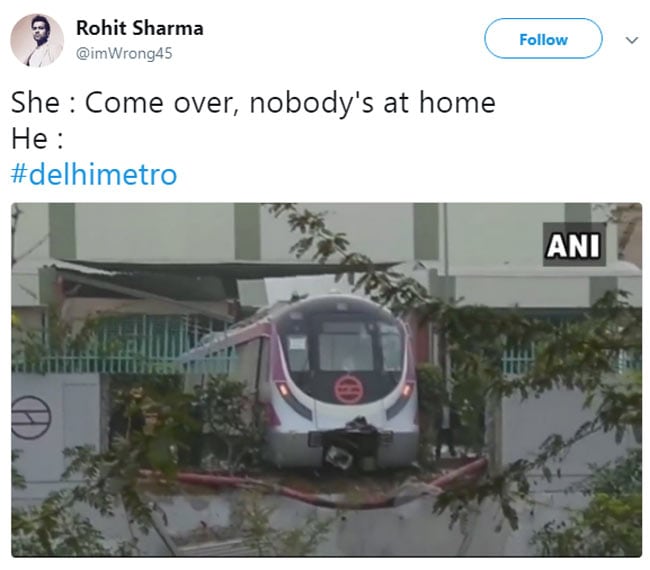 A driverless train being tested on Delhi Metro's soon-to-open Magenta Line crashed through a wall yesterday afternoon. The
incident
took place at 3.40 pm at the Kalindi Kunj depot. Nobody was reported injured in the crash which allegedly took place because the train's brakes were disengaged. However, startling pictures of the train quickly went viral on Twitter where people soon began to turn them into memes.
Delhi: Empty metro train on trial run, breaks through boundary at Kalindi Kunj depot. Matter being probed. pic.twitter.com/kiqWn7TCVH

- ANI (@ANI) December 19, 2017
We collected some of the memes for you to enjoy:
She : Come over, nobody's at home
He :#delhimetropic.twitter.com/Y7QFEwu0PS

- Rohit Sharma (@imWrong45) December 19, 2017
Is that what you mean? #DelhiMetropic.twitter.com/zPD7cCKFY8

- Rohit Sharma (@imWrong45) December 19, 2017
#DelhiMetro should have used Ambuja Cement for constructing the wall, deewaar ka tootna naamumkin hota

- Italian Bahu (@ItalianBahu) December 19, 2017
Lol, inauguration ki bahut jaldi hai Saheb ko https://t.co/lJUkMNMVuV

- TweetZaade active since 2012 (@TweetZaade) December 19, 2017
muze delhi pasand nahi he ! me to chali delhi se bahar pic.twitter.com/SLzH8FIWNf

- Om (@ohokohokok) December 19, 2017
Tere liye hi toh signal tod taad ke
Aaya Dilli wali girlfriend chhod chhad kehttps://t.co/I1hHt5YuLL

- Abdul Mustafa (@abdulmustafa01) December 19, 2017
PM Modi is scheduled to inaugurate the Kalkaji Mandir-Botanical Garden stretch of the Magenta line, which is to run between Delhi and Noida.
The Delhi Metro has blamed the crash on "human error and negligence" and has ordered a high-level inquiry.
"A trial train was moved from the workshop without testing the brake system as a result of which, while the train was moving up the ramp for washing, it rolled back and hit the adjacent boundary wall," the Delhi Metro Rail Corporation said in a statement.
The brakes should have been tested by the maintenance staff before the train left the shed. "It appears this was not done...the person who took charge of the train did not check the brake...Without the brakes, the train rolled back when it was being taken on a washing ramp," the statement said.
Delhi Metro's Managing Director Mangu Singh said operations on the Magenta Line were "absolutely safe", with a high level of automation. "Today's incident was manual error during maintenance and has nothing to do with the trials or passenger safety during future operations," said Mr Singh.
Click for more
trending news