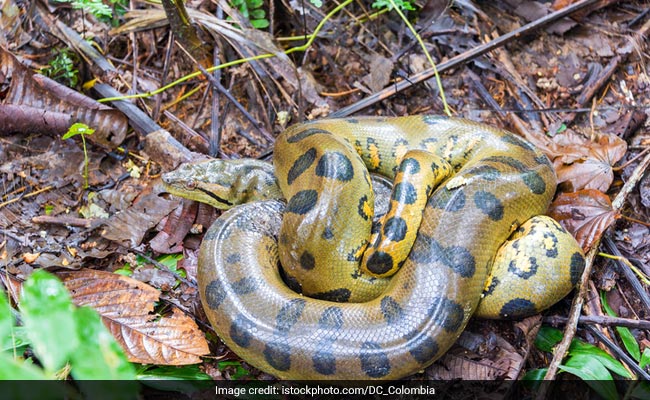 How would you react if there was a gigantic anaconda in front of you? Well, most people would feel intimidated and extremely frightened. This Florida cop, however, isn't among those people. A video posted on Facebook by the
Leon County Sheriff's Office
shows a detective handling a nine-foot-long Yellow Anaconda like it was no big deal. Her video, since being shared on October 12, has collected over 2.7 lakh views, more than 2,700 reactions and almost 3,000 shares.
"Our Detective Emily Shaw got an unusual call yesterday, but one she was equipped to handle. Detective Shaw has experience handling exotic snakes," says the post accompanying the video. It shows the detective first prodding the snake gently with a thick branch. "It sure is slow moving," says the person recording the video. Right after that, as if the snake heard the comment, it makes a sudden move, giving both Detective Shaw and the person shooting the video a shock.
The cop is eventually seen lifting the anaconda with her bare hands and transferring it to a bag. You can even see the snake retaliating a little and it even coils itself around Detective Shaw's wrist at some point. She makes the whole thing look easy but the video seems quite intense.
According to the post, the snake may have been a pet that had either escaped or had been released. "If you own an exotic pet- please be responsible. Make sure their cages are completely secure and if you decide you no longer want it, DO NOT release it into the wild. Instead, contact Florida Fish and Wildlife Conservation Commission," says the post.
Watch the video below:
People on Facebook have praised Detective Shaw for her amazing work.
"Standing ovation to you detective Shaw because I know dang well I couldn't do it because I'm terrified of snakes," says one Facebook user on the video. "Thank God for people like you, detective Shaw. I'd just put a 'For Sale' sign on my house, leave all of my things behind and call it a day!" says another.
Leon County Sheriff's Office later said that the snake was healthy and being scanned for a microchip. They also had a foster family on standby for the anaconda.Click for more
trending news