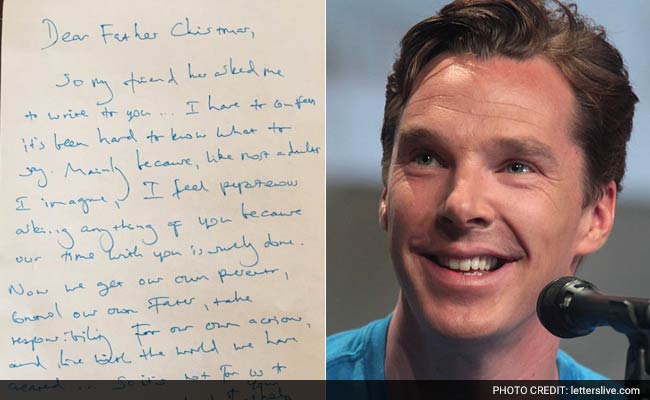 In case you're among those who feel too old to write Father Christmas a letter, allow actor Benedict Cumberbatch and comedians Russell Brand and Tim Minchin to prove that it's A-OK to send Santa that wish list no matter your age.
Letters Live, a performance event that celebrates correspondence, asked authors, actors, musicians and comics to write 'letters' addressed to Santa Claus as a Christmas exercise.
Russell Brand, who is also a social commentator in addition to his work in comedy,
asked Santa if he was real
- "I've got some obvious questions around physics (rotund tum vs narrow chimney, travel time etc) and some ideological questions about the net human gain from a jolly celestial benefactor granting consumer goods to mark a pagan/Christian celebration." Tim Minchin, a Australian singer, actor and comedian,
wondered if Santa was a "gateway entity."
He wrote in his letter: "So does the story of You prime us for acceptance of more complex (equally ephemeral, but not necessarily as benign) entities later in life?"
However, it's Sherlock's letter to Santa that's gone viral. "Preposterous" as he may feel "like most adults" do when writing to Santa, Benedict Cumberbatch's heartwarming and poignant wish list to Saint Nick has won him applause from all over.
Cumberbatch, who regularly performs for Letters Live, begins by confessing that writing this wish list was hard, especially since everyone can get their own presents and each one is responsible for their own actions. "It's not for us to turn around and plead for your help with the environment, the migrant crisis, the NHS, education, food banks, human rights, fundamentalism and wars. Though God knows we need all the help we can get with all these man-made problems and more," the actor writes.
Santa, Cumberbatch writes, is for the children "who need some magic in a world where the borders between innocence and responsibility, playful imagination and cold, adult obstacles are continually shrinking," not for the cynics who have outgrown their faith in him.
Admitting that Santa has had a tough year on his hands, Cumberbatch has a very simple wish - that children get to stay children for a bit longer. "Distract them from the realities of a world gone mad so that they can laugh with their breath rather than sob with their tears. Especially those caring for family members, or suffering illness, hunger or poverty. Especially those hiding in buildings as bombs rain down, or being handed shaking with fear or cold into a boat to escape environmental disaster or war. Please help to light up their worlds with a moment of joy and hope," he writes.
Adding that Saint Nick inspires good behavior among people, he makes another wish. "Spare a thought too for those millions who want to write to you but through illiteracy can't. Hear their words and help to give them the time and chance to learn how to read and write so they can better their lives and escape their impoverished beginnings," writes Benedict Cumberbatch in his letter.
It's not all for the greater good though. The star of The Imitation Game also sneaks in a very special personal request for Santa. We'll let you
read the entire letter here
to find out what Benedict Cumberbatch wants for himself this Christmas.