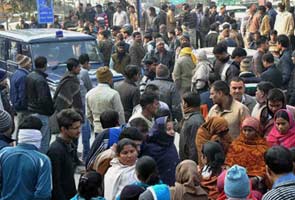 Noida:
The Noida Police on Sunday arrested two suspects for the rape and murder of a 21-year-old woman in Sector 63 and punished five policemen for dereliction of duty in the case. Four policemen were suspended and the fifth was transferred.
Police arrested Naresh Yadav, who worked in the same garment factory as the woman, and Kailash Yadav. A third suspect, Uday Yadav, is on the run. The woman had complained to her family about being harassed by Uday.
The woman went missing on Friday night while returning home from work. Her body, bearing injury marks, was found on Saturday morning.
(Read)
She was cremated on Sunday.
The woman's family alleged that the police had refused to file a complaint and later delayed handing over her body.
Two constables at the Model Town police post and two others attached to a Police Control Room (PCR) van have been suspended. RK Rathi, the Model Town police post in-charge, was shifted to the Police Lines after the woman's mother alleged that the police officers told her she must have run away with her boyfriend and refused to register a case for seven hours.
The policemen in the PCR van went away with the woman's body after the post-mortem on Saturday as they reportedly feared a law and order problem outside her colony. They returned with the body after three hours.
The woman's father said she had left office around 9 pm. "She left on a scooter after her shift along with other girls. They got off and she went ahead alone," he said.
When she did not return till 10 pm, worried family members began a search and approached the police. But they allege that the police did not take the matter seriously and refused to lodge a missing person complaint.
The parents suspect involvement of local youths. They said that four years ago Uday, who was allegedly stalking her, had tried to forcibly enter their house. Residents of the area intervened and gave Uday a warning.
In Greater Noida, protesters held a rally demanding arrest of the killers. "The women are very scared. Even strolling outside their house isn't safe anymore," said one of the protesters.
(With inputs from agencies)