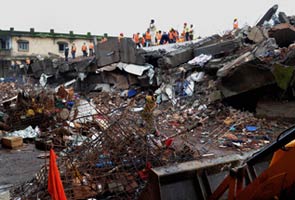 Mumbai:
The death toll in the Bhiwandi garment factory collapse in Mumbai has risen to six with the recovery of three more bodies, police said on Friday.
While two bodies were recovered late Thursday night from the debris of the two-storey building housing the garment factory, one more body was found during clearance work on Friday morning, they said.
The BIG Garments factory, located in Arihant Compound campus having many godowns, had collapsed in Kalher village near the powerloom town of Bhiwandi on Thursday in which so far six persons have been killed and 24 others injured.
Out of the three more bodies recovered, two have been identified as that of Mohamad Mansoor (22) and Miraj Shaikh (30), both workers employed with the BIG Garment factory.
The Narpoli police have registered an offence under section 304 (culpable homicide not amounting to murder) of IPC against six persons in connection with the building crash, Narpoli police inspector D B Patil said.
The Dedhia brothers, who owned the factory, the architect and builder have been named in the FIR, Patil said.
However, as of now, no arrest has been made in connection with the mishap.
Around 12 fire engines and scores of personnel of civil defence and home guard carried out relief and rescue operations. A team of National Disaster Response Force (NDRF) also visited the spot.
The work of clearance of debris will continue today, district disaster control room sources said.
Incessant rains in the area are blamed for the collapse, though there is no official confirmation about it.
This is the third major building crash in the district in the past couple of months.
In April this year, 74 people lost their lives in Maharashtra's worst building collapse at Shilphata in Mumbra area. Last month, 10 people died when a three-storey building collapsed, also in the Mumbra township of Thane district.