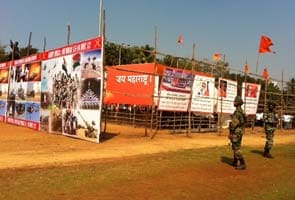 Mumbai:
The Shiv Sena has finally removed the makeshift memorial of party founder Bal Thackeray from Mumbai's Shivaji Park, where he was cremated a month ago. It is still not clear where the final memorial will be.
The process to remove the structure began around 1 am in the presence of Mayor Sunil Prabhu and senior Sena leaders including party group leader in Assembly Subhash Desai and was completed by 3:30 am.
Curtains were put up around the structure and a soil extractor machine was used for removal after which the debris was put in a truck.
The Sena had last week committed that it would shift the makeshift memorial. Its party mouthpiece, Saamna, had said the memorial would be shifted on December 17 - exactly a month after Mr Thackeray's death.
The permission for the structure on which Mr Thackeray was cremated had been given for one day - November 18 - only. But the funeral plinth transformed into a memorial that the Sainiks called 'samadhi sthal.'
The party had earlier refused to shift out the memorial - a tented enclosure barricaded with bamboo poles and having huge posters of Mr Thackeray - and demanded that it be turned into a permanent memorial. Shiv Sainiks had been camping at the park to guard the structure.
The Brihanmumbai Municipal Corporation (BMC), which refused permission, was caught in a month-long deadlock with the Sena and served notices to Mayor Sunil Prabhu, who is from the party, and Sanjay Raut to remove the structure.
Maharashtra Chief Minister Prithviraj Chavan had said it would be illegal to create a memorial for Mr Thackeray at Shivaji Park. He reminded the Sena that the ground was given for Mr Thackeray's funeral to accommodate the lakhs of people expected to turn up.
Mr Thackeray died on November 17 at his home in Mumbai. He was cremated the next day at the Shivaji Park, where he addressed his followers during Dussehra rallies for over 40 years.