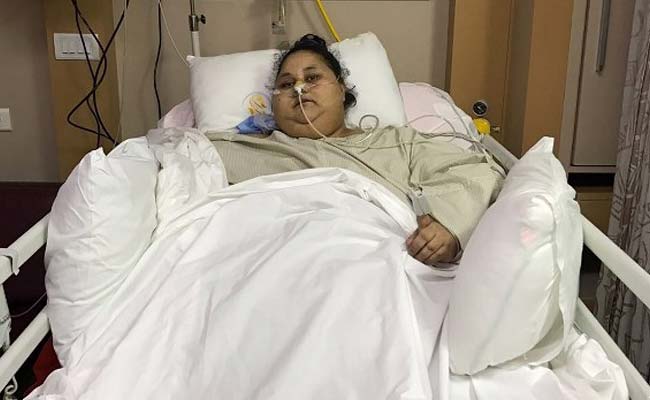 Mumbai:
Egyptian woman Eman Ahmed, who lost 324 kg at a hospital in Mumbai in less than three months, will fly to Abu Dhabi today for rehabilitation. Ms Ahmed, believed to be the heaviest woman on the planet till recently, had arrived in Mumbai in February on a chartered cargo plane. Sources have said that a cargo aircraft, turned into an air ambulance is likely to fly Eman today.
According to a schedule shared with the Mumbai Police, a medical evacuation team will arrive at the Saifee Hospital, where she underwent treatment for extreme obesity, at 9:30 am. She will be transferred to a specialized bed which could possibly take two hours.
Doctors hope Ms Ahmed will slip comfortably into an ambulance being arranged by Abu Dhabi's VPS Burjeel Hospital, where she is headed for rehabilitation. She will then make a journey from the Saifee Hospital on South Mumbai's Charni Road straight to the tarmac at the T2 terminal of the International Airport. She will be accompanied by five members of the VPS team on the flight.
Authorities of VPS Burjeel have written to the Mumbai Traffic Police for a green corridor as they have a narrow window of an hour and 20 minutes to take her safely to the airport just in time for her flight. However, it is not yet clear if they have been granted permission for the green corridor.
On Wednesday, doctors at Saifee Hospital provided a detailed medical briefing to Ms Ahmed's sister Shaimaa and the doctors from VPS Burjeel.
Speaking to NDTV, the CEO of VPS Dubai and Northern Emirates Dr Shajir Gaffar said "Eman will be given complete rehabilitation which will ensure that she gets both physiological and psychological care to give her a quality healthy life."
Controversy over Ms Ahmed's treatment began when her sister alleged last week that she had not shed half her weight, as the doctors had claimed. Ms Ahmed's sister had claimed that it was an attempt to get the 37-year-old to leave without full treatment. Doctors at Saifee Hospital had dismissed the allegations as "complete hogwash".