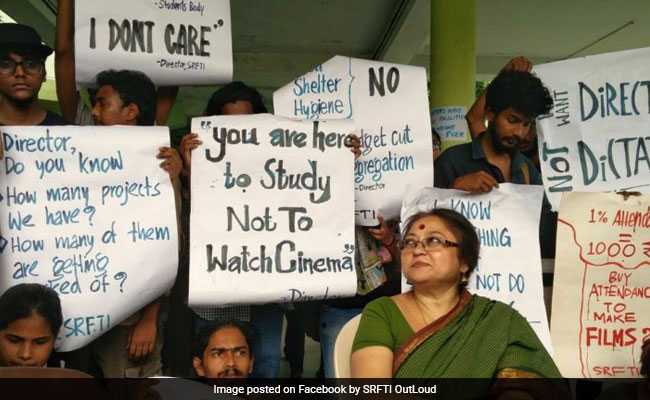 Kolkata:
The Satyajit Ray Film and Television Institute in Kolkata continued to be on boil on Wednesday as students' protests against authorities over "moral policing" and "gender-based segregation" rocked the campus for a second day following the expulsion of 14 girl students.
The students of SRFTI were expelled allegedly over "hostel segregation" after they refused to vacate the old hostel rooms and shift to a new girls' hostel on the campus.
The development triggered protests on Tuesday, with students raising their voices against the imposition of "draconian rules" and "threats of expulsion" every other day.
They demanded that the decision to expel 14 female students be revoked.
On Wednesday, SRFTI Director Debamitra Mitra was
"gheraoed"
by the agitators and was prevented from entering the campus.
She held a meeting with the faculty later in the day and stood by the Institute's mandate.
"We have to implement the mandate of the governing council and academic council to have a separate girls' hostel," Ms Mitra said.
SRFTI students say the authorities claimed the rule was imposed to "ensure safety and security" of students. Several female students have earlier complained of sexual harassment by faculty and students.
They said the institute had turned into a "highly undemocratic space" and slammed the "dictatorial" and "authoritarian" attitude of the authorities.
In a statement issued by students on Wednesday, they said: "We want the expulsion notice served to fourteen girls to be immediately rolled back and police to be sent back from campus premises."
They vowed to carry on protests till their demands are met.
In a statement on Tuesday, the student body had said: "The administration has been coming up with draconian rules every other day and threatening the students constantly with expulsion from the institute, calling the police to threaten the students, imposing fines."
They pointed out "horrendous living conditions in the hostel", fee hike and imposition of monetary fine for shortfall in attendance and delay in submission of fee, academic projects being cut and modified, no increase in academic budget over six years and corruption.
Ms Mitra clarified that the decision for "hostel segregation" was in the process since 2009.