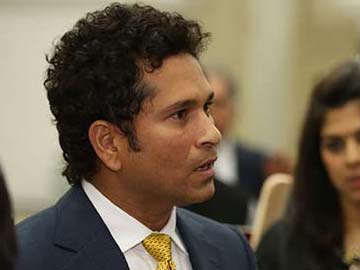 Kolkata:
Fans of Sachin Tendulkar have set up a Durga Puja pandal in Kolkata in the form of a cricket
stadium graced by 10 idols of the 'God of Cricket'.
The idol of Goddess Durga, placed in the commentary box of the artificial stadium, seems to bless the Master Blaster whose 10 idols are placed in the ground where he is shown bowling, batting and fielding in different styles.
In Sonarpur, on the outskirts of the city, the pandal has been organised by the Rail Colony Sarbojanin Durga Puja Committee, many of whose members belong to Sachin's Fan Club.
Interestingly, they have placed floodlights instead of the regular decorative lightings while devotional songs have been replaced by recorded commentary in the voice of Ravi Shastri of matches played by Sachin.
The pandal itself is like a cricket stadium complete with a pitch, dressing room and galleries. A giant screen above the 'stadium' shows footage of Sachin's centuries.
With the theme of 'Ma Durgar Aradhana, Sange Sachin Bandana' (Praying for Goddess Durga alongwith worshipping Sachin), organiser Nilendu Basu told PTI that they are trying to focus on the life and achievements of Sachin to inspire all youths of Bengal.
They have documented the illustrious career of the 'little master' with photographs and memorabilia which starts from his childhood till his last game - 200th Test match.
It took club members two months of painstaking research to collect memorabilia related to Sachin's life.
"This is our tribute to the man who caught the fancy of the nation for 25 years with his talent and hard work," Basu, also the club secretary, said.