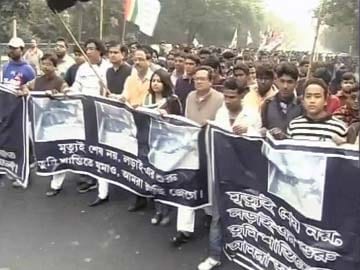 Kolkata:
The body of a college student who died at Sandeshkhali in West Bengal yesterday was taken out in a procession in Kolkata today by the ruling Trinamool Congress amid contradictory claims over the cause of his death. Trinamool has alleged that 18-year-old Paresh Mondal died after being thrashed by activists of the Students' Federation of India (SFI), the student wing of the CPM. The SFI claims he was suffering from a congenital heart disease and died of cardiac failure.
Two SFI activists were arrested today on the basis of a First Information Report or FIR filed by the family of the teen whose post-mortem report is awaited.
The CPM had, exactly 15 days ago, marched with the body of a 16-year-old girl who was burnt alive allegedly by men known to those accused of gang-raping her twice in October last year in Madhyamgram.
The Trinamool did the same today as it marched with the body of Paresh, one of its student leaders.
Some in the party, though, had initially said that Paresh died of natural causes. Today, the party united in blaming the SFI for the student's death.
"This murder has happened, according to our primary information, because he was beaten by SFI people," said Shanku Ponda, President, Trinamool Chhatra Parishad.
Paresh's family refused to speak even though they had named several SFI activists in their complaint. The student body, though, claimed it was being framed.
"We fear more arrests," said SFI leader Ritabrata Banerjee. "Yesterday, the family had said it was death due to heart attack... It was only after Trinamool minister Jyotipriya Mullick started blaming the SFI that the whole story changed," he added.
The trigger for the trouble: college union elections that the state government is holding under tight security following violence last year in which a policeman was shot dead during a students' clash in Kolkata.
"The problem is if you have politics in college union elections, then problems will be there. Remove politics from colleges," said Governor MK Narayanan.
College polls are being held across the state in four phases from today. But the death of Paresh Mondal and the politics over his body is bound to raise temperatures.