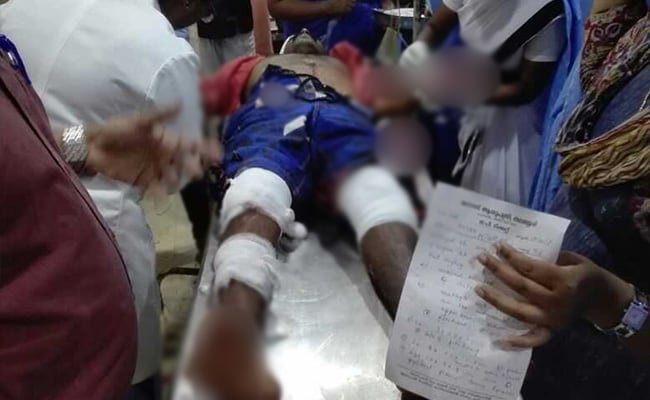 Kannur:
An activist of the Rashtriya Swayamsevak Sangh (RSS) was brutally attacked, allegedly by supporters of the Communist Party of India (Marxist) or CPM, at Muzhuppilangad near Thalassery in the politically volatile Kannur district of Kerala. According to the police, the condition of 28-year-old Nidesh, the RSS worker, was critical and he had been shifted to the Kozhikode Medical College hospital. He had suffered injuries on his hands and legs, the police said.
The local BJP unit alleged that the workers of the CPM, the ruling party in Kerala, were behind the attack on Nidesh.
The police suspect that the attack was carried out by bike-borne persons at around 5:30 pm on a road near the Muzhuppilangad beach.
Additional police personnel have been deployed in the area as a precautionary measure.
Kannur in north Kerala has a history of political violence between the workers of the CPM and BJP and its ideological parent RSS. Forty-five CPM activists and 44 BJP activists have been killed in the district since 2000, due to the political rivalry of the two parties.
Last Sunday, an RSS activist was dragged out of his auto rickshaw and attacked allegedly by CPM activists just hours after sharp weapons were seized from a compound near the BJP district office in Kannur.
Today's attack comes at a time when BJP has been undertaking a statewide procession - the
Jan Raksha Yatra
- protesting against political violence it blames on the Left.
The march, which was flagged off by BJP chief Amit Shah at Kannur on October 3, is scheduled to conclude at state capital Thiruvananthapuram on October 17. Mr Shah is expected to be present in Thiruvananthapuram on that day.
State BJP chief Kummanam Rajasekharan is leading the march, which reached Kollam today.
The CPM has also been conducting public meetings in Kerala and other states against the attacks on CPM cadre blamed on the BJP and RSS.