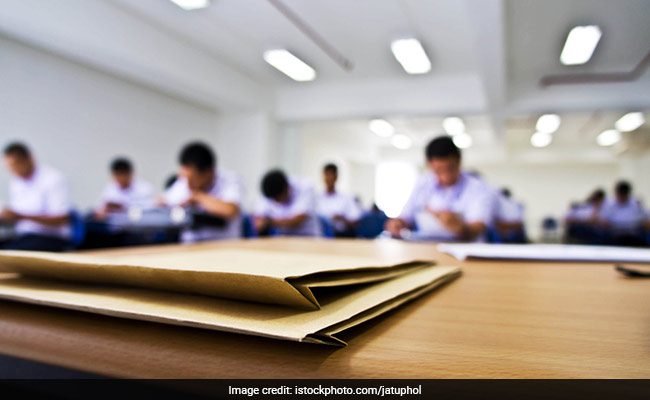 Highlights
A Kerala girl student had to remove her innerwear to answer NEET
The girl alleged an external observer was staring "at her chest"
A similar incident occured during last year's NEET exam in Kerala
Palakkad, Kerala:
A girl student from Kerala who had to compulsorily remove her innerwear to answer this year's NEET exam has filed a complaint against an external observer for staring at her "inappropriately". The student had to remove her bra as authorities said it had metal hooks which would set off a metal detector.
A similar incident
occurred last year as well in Kerala, when woman examiners taking the NEET exam were forced to remove their innerwear for "security". The police have registered a case and investigations are on, reported news agency PTI.
The student had gone to Lion's school at Koppam, in Kerala's Palakkad district, to take the National Eligiblity-cum-Entrance Test or NEET conducted by Central Board of Secondary Education or CBSE.
"My sister became mentally tense, found it difficult to write the exam properly," her sister told television channels, according to PTI. Her sister, she said, tried to cover herself with the question paper whenever the male external observer came close, since he kept looking "at her chest" and not her face.
Kerala police officers said they are speaking to "more witnesses" who had appeared for the test in the same school.
A case was registered under section 509 (eve teasing by word, gesture or act intended to insult the modesty of a woman) of the Indian Penal Code.
A regional CBSE official said they are yet to receive a complaint on the matter. "We are inquiring and a report is expected by next week," Tarun Kumar was quoted as saying by PTI.
A bizarre dress code
was implemented
during last year's NEET exam
at a centre in Kerala's Kannur, allegedly to check cheating during the exams. Women candidates were asked to wear "light clothes with half sleeves not having big buttons or brooch/badge or flowers, with salwar/ trouser and slippers or sandals with low heels, not shoes".
A student was also told to remove the button on her jeans after it had set off the metal detector at the exam centre.