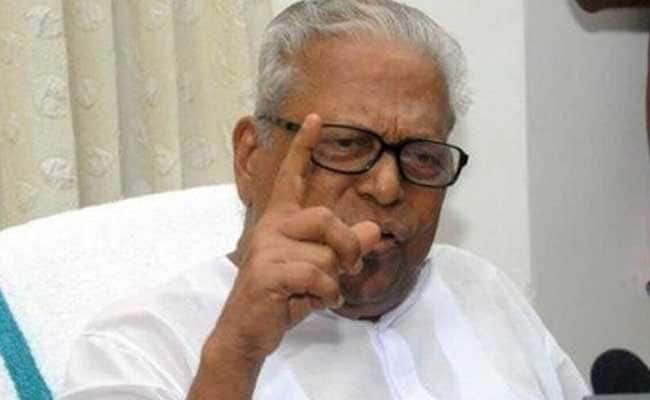 Kochi:
Leader of Opposition in Kerala Assembly, VS Achuthanandan, today demanded a comprehensive probe into solar panel scam accused Saritha S Nair's allegations that she was sexually abused by Kerala Chief Minister Oommen Chandy.
The veteran CPI(M) leader also urged the people of Kerala to "boycott" the Chief Minister and other leaders against whom Ms Nair had levelled sleaze charges in a purported letter which she had allegedly written while she was in police custody following her arrest in the solar panel scam.
A day after a leading news channel released the copy of the purported letter, Mr Achuthanandan said allegations against the Chief Minister were "serious" as it revealed that he used his official residence for "all type of immoral activities."
Talking to reporters in Kochi, he alleged that Mr Chandy and his colleagues, allegedly involved in the incident, were trying to destroy the life of a woman who approached them seeking her livelihood.
"Oommen Chandy has become a liability for the Congress High Command. Fielding leaders like him in the assembly polls is against interest of people of Kerala. These people, wearing masks of politicians, have polluted the public life in the state," the opposition leader said in his attack against Mr Chandy.
Talking to reporters at Thiruvananthapuram, Mr Chandy rubbished the allegations of sexual abuse levelled by Ms Nair and said people will give a befitting reply to it in the May 16 assembly polls.
On Sunday, he had dismissed the charge as "totally baseless" and claimed it was a conspiracy.
"This is the last ditch effort to sabotage my government," Mr Chandy had said after the channel released the 25-page letter which Saritha had allegedly written in 2013 while she was in police custody following her arrest in the solar scam.