New Delhi:
Highlights
Congress overrun by "family first philosophy", PM said at Karnataka rally
PM will continue to boldface Congress' dynastic leanings: top BJP leader
PM took calculated risk of refusing Yeddyurappa's son run: BJP leader
Prime Minister Narendra Modi turned the first of his three rallies in Karnataka today into an unceremonious roast of rival Rahul Gandhi with the punchlines all centring on one theme: the 47-year-old Congress president's lineage as his only qualification to lead India's main opposition party. In fact, the PM charged, the Congress is over-run by a "family first philosophy." Relatives of ministers are fighting (Karnataka) polls. This is hurting the workers of the Congress. In front of the Congress 'Naamdaars' (legacy leaders), the
Congress 'Kaamdaars'
(workers) have no voice and this is so sad," he said in an unsolicited appraisal of the Congress' problems.
It is entirely by design that the PM has and will continue to boldface the Congress' dynastic leanings, said a top BJP leader handling the Karnataka campaign to NDTV. It is the also the conviction that this charge will stick among voters that the PM and his top aide, Amit Shah, took the calculated risk of refusing to let BS Yeddyurappa's son run for office, disclosed the leader on the condition of anonymity.
Mr Yeddyurappa
got some much needed reaffirmation today. The gig of Chief Minister will go, as promised, to the 75-year-old, the PM asserted. Mr Yeddyurappa, whose last term as head of the BJP's first southern government was soured by allegations of grave venality, took a brief break from the BJP before reuniting with it ahead of the national election. His son, BY Vijayendra, spent weeks
campaigning in Varuna
in Mysuru, from where the Congress has chosen the son of Chief Minister Siddaramaiah as its candidate. Mr Vijayendra told NDTV two weeks ago that he was raring to take on Mr Siddaramaiah's son, a doctor named Yathindra Siddaramaiah.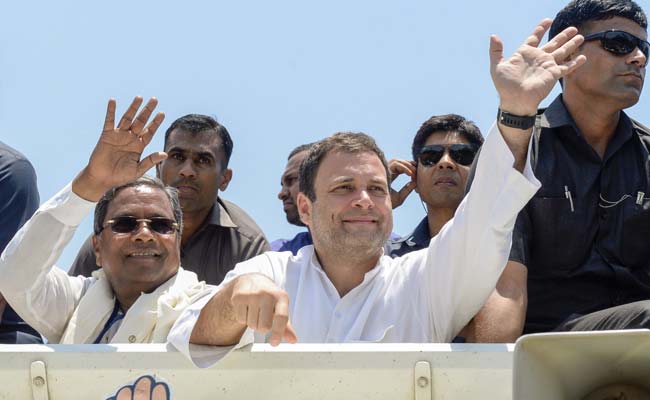 Days later, Mr Yeddyurappa announced that his son would not contest the election - not just from Varuna but from anywhere. He insisted this was his decision and that the BJP wanted to avoid father-son combinations.
Mr Yeddyurappa is the BJP's best shot at winning the
election in Karnataka
- as a leader of the powerful Lingayats, a rich land-holding community that forms about 17% of the population. He is also a charismatic orator and has the continued support of the Reddy brothers, controversial mining barons accused of illegal mining with wealth of giant proportions.
So when he revealed that his son would not compete in the election, supporters wept, threw furniture around at the venue of his press meet, and threatened to resign en masse.
Mr Modi and Mr Shah were not unaware of the likely revolt their move would provoke. They were also briefed on surveys that showed BY Vijayendra was doing well in Varuna as he moved in an SUV from temples to neighbourhood meetings, carefully chaperoned by Mr Yeddyurappa's most experienced aides. But naming him as a candidate would mean that Mr Modi would have to abandon his plan to go big on the Congress' most-headlined deficiency: leadership by name rather than merit.
Apart from Mr Gandhi, he had in his crosshairs
Mr Siddaramaiah
's decision to run from two constituencies as a hedging of bets, as also the candidature of Mr Siddaramaiah's son.
The back-and-forth as Mr Modi and Mr Shah weighed the consequences of their plan apparently went on till the very last moment. The final veto against Mr Yeddyurappa's son was made clear to the veteran leader after he had gathered with his son and supporters in Varuna. They had planned a show of strength for Mr Vijayendra as he filed his nomination papers to officially declare himself in the running.
The timing could have been better, the BJP leader admitted, but said the decision will only do limited damage to the party.
Get Breaking news, live coverage, and Latest News from India and around the world on NDTV.com. Catch all the Live TV action on NDTV 24x7 and NDTV India. Like us on Facebook or follow us on Twitter and Instagram for latest news and live news updates.