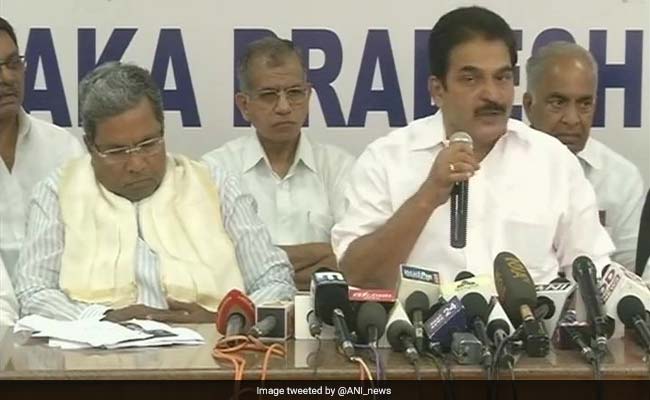 Highlights
Mr Siddaramaiah is known to doze off at the most inconvenient of times
Today, he zoned out in middle of press conference of his Congress party
3 years ago, he fell asleep during a debate on sexual crimes
Bengaluru:
He is known to doze off at the most inconvenient of times, when the world's eye is on him, but Karnataka Chief Minister Siddaramaiah appears to have zoned out in the middle of a press conference of his Congress party.
At the press meet in Bengaluru, he is seen snoozing right next to Venugopal, party general secretary in-charge of Karnataka, who is addressing the media.
Earlier this month, he apparently did it at a Congress coordination committee meeting. When a party leader, Lakshmi Hebbalkar, realized that Mr Siddaramaiah was no longer er... paying attention, she reportedly asked a leader to nudge him.
It appears to be a chronic problem for the 68-year-old, who has been seen struggling to stay awake even during heated debates inside the assembly.
Three years ago, he notably fell asleep during a debate on sexual crimes including the rape of a six-year-old. While the evidence was on camera, he insisted, "I was not sleeping. It is not correct. I was very much attentive and listening." His party did, after all, describe it as being "deep in thought" when another senior Congress leader was caught napping during a debate.
Also in 2014, Mr Siddaramaiah made headlines for appearing to fall asleep in not one but three functions.
Last year, he had a sleep attack at an Indian Science Congress function addressed by Prime Minister Narendra Modi at Mysuru University.
According to reports in regional media, the Chief Minister has admitted to a sleep disorder and has tried to cure it with yoga.