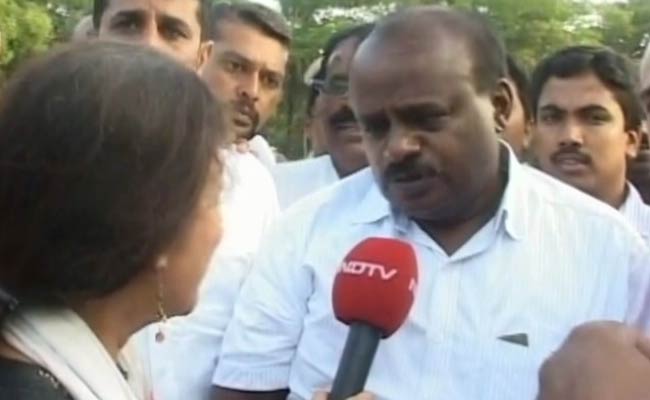 New Delhi:
The stalemate over allocation of portfolios in Karnataka continued today despite five days of hectic deliberations between the Congress and the JDS, delaying the expansion of state cabinet.
The Congress claimed that the "issues" would be resolved soon after Chief Minister H D Kumaraswamy held talks with its leaders in the national capital. The JDS said that talks between the two allies were inconclusive and would resume after a day or two.
Mr Kumaraswamy and state Congress leaders left for Bengaluru late this evening to participate in the funeral of a Congress lawmaker, who died in an accident last night.
There has been "heavy bargaining" over portfolio allocation during discussions between the coalition partners, thus delaying the formation of council of ministers in Karnataka.
JDS leader Kumaraswamy, who was sworn-in as chief minister of the state last week after the Congress extended its "unconditional support" to his party, went straight from the airport to the residence of senior Congress leader Ghulam Nabi Azad for discussions with top Congress leaders.
Congress president Rahul Gandhi had left for the US yesterday accompanying his mother who has to undergo a medical check-up there.
Among those present during the deliberations today were Ahmed Patel, Ashok Gehlot and KC Venugopal, who is the AICC general secretary incharge of the state.
Mr Kumaraswamy was joined by JDS leader Danish Ali during the discussions with the Congress leadership.
Later, senior party leader Mallikarjun Kharge, state Congress leaders Siddharamaiah, deputy chief minister G Parameshwara and DK Shiva Kumar joined their senior leadership in the "negotiations".
Sources said that the state Congress leaders are pushing their own case for key portfolios. They added that the Congress is keen to have all key portfolios of Finance, Home and Industries, under which the department of mining comes, besides Power, Irrigation, Public Works Department, Excise, Bengaluru Development and primary education.
The JDS leadership too is keen to have a share in the key portfolios, especially Finance, as the chief minister wants to fulfil his promise of farm loan waiver.
"We held discussions with Chief Minister H D Kumaraswamy and other leaders of our ally in Karnataka. We are likely to finalise the portfolio-sharing issue within a day or two. We will be meeting again and will hold further discussions," senior party leader Venugopal told PTI.
After the meeting, Mr Kumaraswamy exuded confidence that an amicable power sharing arrangement will be worked out.
"We discussed the portfolios. The discussions remained inconclusive, but ended on a positive note. Very soon we will sort out the issues," Mr Ali told PTI.
Mr Kumaraswamy had admitted earlier to having "some issues" with the Congress over allocation of portfolios in the new government. Only Mr Kumaraswamy and Mr Parameshwara have been sworn-in till now.