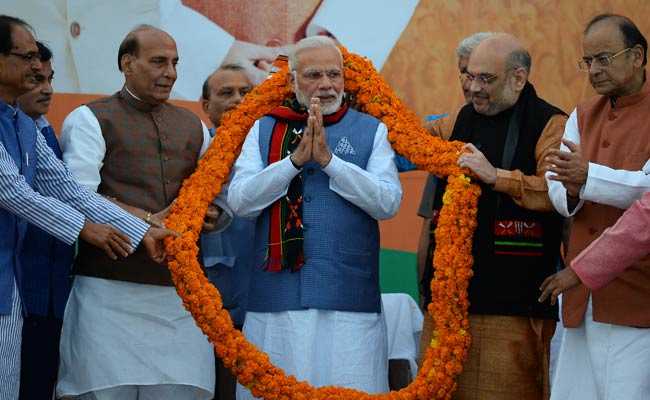 Prime Minister Narendra Modi is pulling out all stops in his campaign to win the southern state of Karnataka as he works to halt the opposition's momentum and smooth his way to re-election in 2019.
His Bharatiya Janata Party has deployed influential political leaders,
boosted its social media campaign
and held extra public gatherings to deepen its footprint in the south and wrest one of the last big states from the Congress Party, which would all but wipe the 132-year-old political organization from India's electoral map.
Following a tough fight in his home state of Gujarat,
defeats in three key by-elections last week
and the
desertion of an ally from his ruling coalition
, PM Modi's standing in the electorate appears weakened. Adding to his woes, PM Modi's other allies are restive, while opposition parties have ramped up their campaign against the government, pushing for a no-confidence motion against the coalition.
The BJP was "on the back foot", analysts led by Sonal Varma at Nomura Holdings Inc. said in a note on Wednesday. These "political vulnerabilities" led Nomura to assign a 25 percent probability of an early national election -- possibly in the last quarter of 2018.
The developments in the lead up to the May election in Karnataka highlight "emerging cracks" in BJP's popularity and an improvement in the opposition strategy, said Shailesh Kumar, Asia director at Eurasia Group, a political risk consultancy. "The road to 2019 will now change, with Modi going further on Hindu nationalism."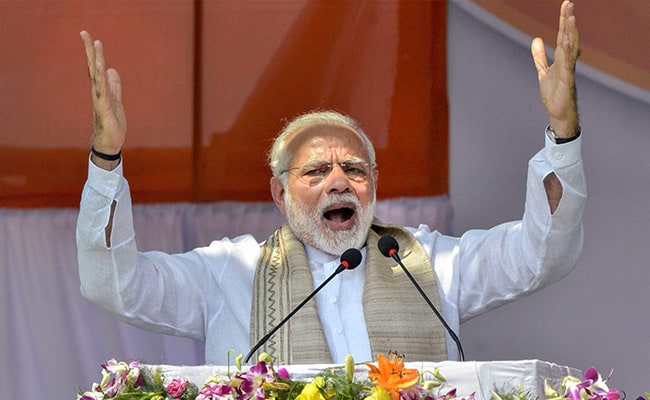 To maintain his aura of invincibility,
PM Modi needs a win in Karnataka
, a state that's swung from party to party since 1985.
"This will be BJP's biggest-ever campaign in the state," said S. Prakash, a spokesman, adding his party is exploring all strategies, including targeting voters at the booth level to snatch power from Congress party in Karnataka. "We messed up in the past but things have changed -- we want to keep the winning streak unabated."
As many as 700,000 BJP volunteers have been deployed to 56,000 polling booths to woo voters, adding 7.5 million people to its membership base. Star campaigners from other states -- including Uttar Pradesh Chief Minister Yogi Adityanath -- have been called in to boost the campaign, said Mr Prakash. The party has pledged to spend $15 billion on irrigation in five years, improve law and order, boost infrastructure and provide a corruption-free administration if it comes to power, he said.
Meanwhile, it's targeting the Congress-led government over corruption and the breakdown of law and order and highlighting PM Modi's efforts to increase support prices for crops and his promise of doubling farmer's income by 2022.
Although Karnataka is India's IT hub, the outcome of the election mostly lies with Karnataka's 8 million farmers.
While there is still significant support for BJP in small town and cities, rural discontent may prevent it from gaining a majority in 224-member assembly. The Congress party under Chief Minister K Siddharamaiah could also fall short of majority. Two opinion polls predict a hung assembly, leaving Janata Dal (Secular), led by former prime minister H. D. Deve Gowda, as kingmaker.
The regional Janata Dal (Secular) could go with either party, although it is more comfortable with BJP, said Narendar Pani, a professor at the National Institute of Advanced Studies in Bengaluru. "JD (S) speaks the language of people and has a connection on the ground."
Farmers' fury with the BJP is not a good omen for the party. Addressing a rally in February, PM Modi said farmers are his 'top' priority and explained that 'TOP' means "Tomato, Onion and Potato."
It's not clear whether his message is cutting through.
"The BJP government is for rich people, not for us. They don't understand our problems," said Anil Kumar, 38, a farmer in Kempalingana Pura, describing how he lost 100,000 rupees last year when he didn't get a decent price for his tomato crop. "When we face any problem, JD(S) people come to us and help us," he said, indicating his vote will go to the regional party.
"Congress has an edge clearly," said Harish Ramaswamy, political analyst and professor of political science at Karnataka University. "For Congress, it's a question of survival and for BJP it's making inroads into southern states and would be a moral boost for 2019 elections."
The party, headed by
Rahul Gandhi, is working hard to hold Karnataka
-- its last slice of power, along with the northern state of Punjab -- and generate momentum for four other assembly polls later this year.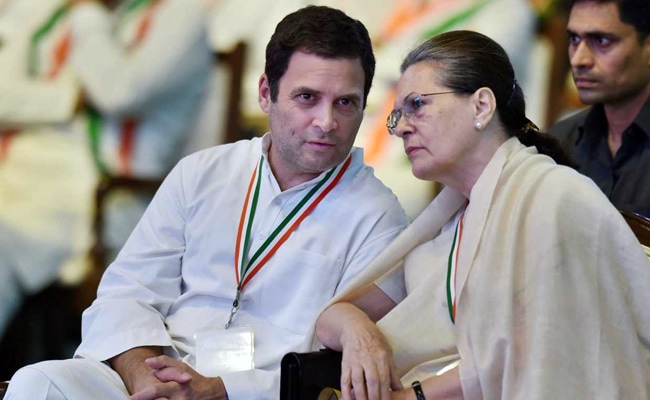 It's promoting its local achievements, including a free rice program, free milk and eggs in schools, free bus passes for students, direct fund transfers to farmers who grow rain-fed crops and waivers of loans from co-operative banks.
"Our budget for campaign is several time larger than what it was last time," said Brijesh Kalappa, a spokesman for Congress. "A victory in the state means Congress has become rejuvenated, become stronger," to face the 2019 elections.
Still, PM Modi remains the BJP's trump card, especially among young voters. "We have faith on Modi," said Muniraju M. R., 28, a driver in Maskal. "BJP will come to power with a full majority and the whole state will prosper."