New Delhi:
BS Yeddyurappa, president of the state unit of the Bharatiya Janata Party (BJP), and Chief Minister Siddaramaiah: two old school politicians from Karnataka, are locked in modern day hashtag wars on social media.
For instance, Siddaramaiah's tweet after Prime Minister Narendra Modi, in a recent rally in the former's home turf in Karnataka, asked whether the Congress state government was "commission driven or mission driven".
PM @narendramodi makes disparaging comments about certain Mysurians.

Mysuru has produced Tigers who fought the British, built a modern state, brought land reforms.

Some one from Mysuru would never have allowed a fugitive runaway with 11500 cr under his Chowkidari. https://t.co/HW2q7ACNGN

- Siddaramaiah (@siddaramaiah) February 19, 2018
Within moments came the response from the 72-year-old BJP leader:
Well well, this 'special someone' (who abandoned Mysuru), did allow the very same fugitive's uncle #ChoksiScam,to escape from Karnataka by flouting the Civil Court Order way back in 2015.This is none other than our own #SleepingChowkidar @siddarmaiah. Is it part of #10PercentCM ? https://t.co/vjtnC6dlPn

- B.S. Yeddyurappa (@BSYBJP) February 19, 2018
So what's the secret of their Twitter game? In a gist: hire the pros.
Stationed in a rented apartment in north Bengaluru, a social media team has been planning out the social media campaigns for Mr Yeddyurappa. The social media professionals have been hired by Rajneethi, a Bengaluru-based group which claims to have been doing social media and data management for political parties for the past seven years and has clients in 15 states.
Three months ago, they came on board Team Yeddyurappa, with a team of 25 professionals.
When NDTV visited their office, the BJP stalwart was in Shimoga, 300 km away. But his Twitter handle was lit up by activity.
Vijay S, the business head of Rajneethi says hashtags on Mr Yeddyurappa's social media accounts like #ElectionHindu (to describe Rahul Gandhi's temple visits) and #10PercentCM (alleging kickbacks by the Chief Minister) are the brain child of his team.
"We sit together, we discuss and we keep a track of what's happening on a daily basis. Regarding the #10PercentCM, we put a very nice tweet that says that the Mangalyaan mission (to Mars) itself cost Rs 450 crore, but laying roads for a stretch of 12 km in Bangalore costs Rs 468 crore. It actually shows the inefficiency of the present Congress government," he said.
The Congress war room, not far away is headed by Mr Siddaramaiah's son, Dr Yatindra.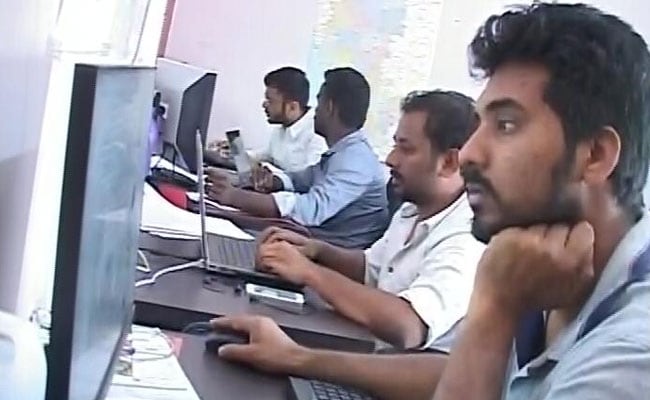 "He (the Chief Minister) has his own team and we have our own professional team here. They are largely responsible for the tweets put up on the CM's handle. My role was just to initiate the process because before September, we didn't have any social media set up. Congress party's presence was very minimal in social media", he told NDTV.
Of the two, the BJP stalwart has a more intense social media game. "He's on Twitter, FB (Facebook), LinkedIn, YouTube, Pinterest, Instagram, Slideshare, WhatsApp and Telegram", said Vijay highlighting the social media reach of the BJP leader.
To Mr Yeddyurappa's one million Facebook followers, the Chief Minister's - about 500,000 followers - is much smaller but his team say they are catching up.
"All followers of the CM are genuine there are no fake accounts," says Dinesh Gundu Rao, spokesperson of the Karnataka Congress.
And how much does it all cost?
"Most of the people are inclined to work with our ideology on a voluntary basis," said Dr Yatindra.
Rajneethi accepts their service is a "little expensive", but refused to share numbers.