Bengaluru:
Karnataka will vote only next year for a new government, but that is not long enough for the BJP to deal with serious differences between two top leaders in a state it badly wants to win back. Relations between state chief BS Yeddyurappa and senior party leader, KS Eshwarappa, are at an all-time low in much worry for the party.
The two senior BJP leaders have been avoiding meetings where the other is present and their supporters have followed their cue. There is talk of a letter circulated by supporters of Mr Eshwarappa, criticising Mr Yeddyurappa's style of functioning as party chief.

When Mr Yeddyurappa formed different committees to assess the drought situation in Karnataka, he left out Mr Eshwarappa. Who in turn formed a group called the Sangolli Rayanna Brigade after a freedom fighter from the state, for the benefit, he said, of underprivileged and backward sections. That did not go down well with Mr Yeddyurappa as he wasn't consulted.

The Rashtriya Swayamsevak Sangh or RSS, the BJP's ideological mentor, is now reportedly stepping in to try and end the tension between the two and help the BJP prepare for the 2018 elections. The BJP needs to present a united front after several years spent in disarray.

Mr Yeddyurappa, 73, is seen as having the strongest mass appeal among BJP leaders in the state. He is a Lingayat, one of the dominant communities in Karnataka, and was the BJP's first ever chief minister in south India after he led to party to a solo victory in 2008. But he is also known for his autocratic style of functioning and not everybody welcomed the BJP leadership's decision to make him party chief in the state last year.


Two years before, he had returned to the party after quitting in a deep sulk for having had to step down as chief minister in the middle of his term amid corruption charges. He had formed his own party and even contested the last assembly elections on his own, before returning to the BJP.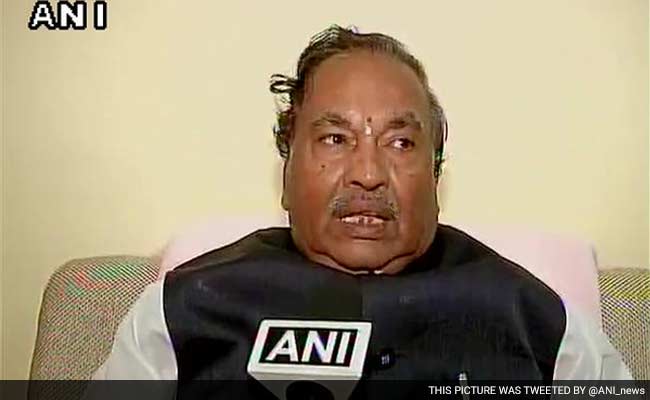 KS Eshwarappa, 68, was Karnataka's Deputy Chief Minister, but only after Mr Yeddyurappa had stepped down and Jagdish Shettar was chief minister.
Both leaders have been politically active from the Shivamogga district of the state, though Mr Eshwarappa had lost in the 2013 Assembly elections. He is the Leader of the Opposition in the Legislative Council in the state, which the Congress wrested from the BJP in the last election. Mr Eshwarappa is from the Kuruba community.
Get Breaking news, live coverage, and Latest News from India and around the world on NDTV.com. Catch all the Live TV action on NDTV 24x7 and NDTV India. Like us on Facebook or follow us on Twitter and Instagram for latest news and live news updates.