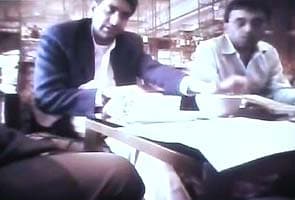 New Delhi:
Zee News today denied that two senior editors tried to extort money from Congress MP Naveen Jindal and described their arrest as an attack on the freedom of the press by the government, led by the Congress.
The TV news channel has been accused by steel tycoon and Congress MP Naveen Jindal of extortion - he says he was threatened that unless he agreed to 100 crores of advertising on the channel, the channel would run stories on how the government allegedly favoured his firm while allocating valuable coal fields.
Mr Jindal's firm filed a police case against Zee's top executives nearly two months ago. Yesterday, the Delhi police arrested Sudhir Chaudhary, head of Zee News, and Samir Ahluwalia, head of Zee Business. Delhi Police's Crime Branch, which is investigating Mr Jindal's complaint, today issued notice to Subhash Chandra, the owner of Zee TV.
Delhi police said in court today that they needed custody of the two editors for three days to "gather more information about the conspiracy through sustained interrogation". The police say they are investigating the angle of deception in the case.
Zee claims that it was Jindal Steel and Power Limited who tried to bribe its executives into dropping stories on the company. Today, the channel's CEO said that the police was pressured by the government into "legal arrests."
"Our channel raised fundamental questions about coal blocks allocated to the Jindal Group. Jindal's mother pleaded with us to play down Coal-gate," said the CEO, Alok Agarwal.
'Coal-gate' is the moniker for an alleged swindle in the allotment of coal blocks to private firms. A report by the government's auditor has faulted the government for ignoring a competitive bidding process and assigning coal fields without transparency. According to the auditor or CAG, Mr Jindal's firm is among those that got windfall benefits as a result of the government's weak policy.
Mr Jindal's executives used a hidden camera to film three of their meetings with the Zee officials who have been arrested. A forensic lab has confirmed that the video has not been doctored or edited.
Mr Jindal today said,"We have made an effort that the truth must come out. Media must be above suspicion. I have all the respect for the media. The matter is in the courts and I would not like to comment on it further."