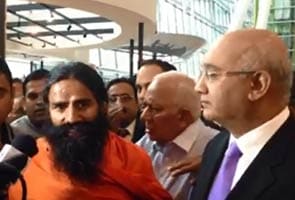 London:
British authorities have allowed yoga guru Ramdev to proceed with his engagements in the United Kingdom after a two-day questioning by the country's immigration officials.
The yoga guru was questioned for a second day at the Heathrow Airport on Saturday. He was detained and quizzed by the airport officials for over six hours upon landing in London on Friday.
Ramdev emerged from the meeting, alleging that a red alert notice was issued on his name. There is still no clarity on why at all was he questioned.
Addressing the press for several minutes, Ramdev said, "I think the immigration department, Home Ministry and UK authorities have been misguided by the Indian government. A red alert was issued for me, just like how a terrorist would be subject to a red corner notice."
Over 100 supporters of Ramdev had gathered at the Heathrow airport, including one Miss India Worldwide and another man carrying a flag, to protest the questioning. The yoga guru was accompanied by Keith Vaz, Labour MP from Leicester.
When NDTV contacted the Border Agency about the case, they replied, "We do not routinely comment on individual cases."
The yoga guru is in Britain to attend a series of events organised by his Patanjali Yog Peeth (UK) Trust. One of Ramdev's events in London, scheduled for Saturday evening, was put on hold until the situation at the airport becomes clear.
The yoga guru was scheduled to address a group of the Non-Resident Indians or NRIs on the 150th birth anniversary celebrations of Swami Vivekananda, where he was expected to be joined by BJP parliamentarian M Venkaiah Naidu and British minister Baroness Sandip Verma.
Ramdev was also scheduled to deliver the keynote address at "The Future of India - Through the eyes of an NRI" event today. Pakistani teenage activist Malala Yousufzai was expected to join him at this event.