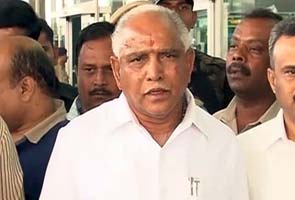 New Delhi:
BS Yeddyurappa has been asked by the BJP to resign immediately as Karnataka Chief Minister. After a meeting at party president Nitin Gadkari's house, party spokesperson Ravi Shankar Prasad shared the BJP's decision, and announced that Arun Jaitley and Rajnath Singh will fly to Bangalore tomorrow to serve as observers while Karnataka MLAs select their new leader.
As this announcement was being made in Delhi, Mr Yeddyurappa was holding an emergency meeting in Bangalore with MLAs who support him - a defiant show of strength. He returned from Delhi early this morning - in the Capital last night, he was told that it was untenable for him to continue in office after a report on illegal mining accused his family and him of accepting kickbacks from a mining company. Mr Hegde has asked that the Chief Minister be prosecuted under the Prevention of Corruption Act.
Till as recently as this morning, Mr Yeddyurappa insisted that there was no question of his resignation. He argued with his party leadership that the charges against him in the report prepared by Santosh Hegde - Karnataka's Lokayukta or ombudsman - are not new.
However, the BJP is preparing to launch a full-on offensive against the UPA in the monsoon session of Parliament over corruption. A tainted Mr Yeddyurappa continuing in office would greatly weaken the party's position.
He Will Not Go Quietly
The fact that the BJP had to publicly announce after its meeting in Delhi this morning that it has advised Mr Yeddyurappa to resign straight away suggests that it anticipates stiff resistance from Mr Yeddyurappa.
A stream of supporters and a few ministers joined the Chief Minister at his house this morning. The Reddy brothers - also indicted for corruption in the Lokayukta report - are likely to stand by Mr Yeddyurappa. Their show of solidarity is motivated partly by Mr Hegde's charges against them. Janardhana and Karunakara Reddy had led a massive revolt against Mr Yeddyurappa a few years ago, nearly forcing his exit from office. The BJP's central leadership stepped in to broker peace, and since then, the Reddys and the Chief Minister have found what many describe as a mutually-beneficial political equation.
Contenders For Next Chief Minister Jagadish Shettar
He is currently the Rural Development Minister in Karnataka. Mr Shettar is not a nationally-known figure, but being a Lingayat like Yeddyurappa can work in his favour. Or it can work against him - if Yeddyurappa wants to stay the dominant Lingayat leader.
Eshwarappa
He is the Karnataka BJP president and belongs to the backward caste. Mr Eshwarappa, too, is not a nationally-known figure.
Sadananda Gowda
Former BJP state president, Mr Gowda is a non-controversial leader. He belongs to the Vokkaliga caste.
Ananth Kumar
Long considered a Yeddyurappa rival, Mr Ananth Kumar is believed to be working against him behind his back. Publicly, however, he and Yeddyurappa put on a united front. Mr Kumar is known at the national level. But he is a Brahmin so does not command a large vote bank.

VS Acharya
Former Home Minister, Mr VS Acharya is a Yeddyurappa loyalist. He has faced trouble many times in the past. Mr Acharya is a Brahmin, which may work against him.
Suresh Kumar
He is the current Law Minister and has a very clean image. As a Brahmin, he may not have a large vote bank to count on but a non-controversial image may work in his favour.

Shobha Karandlaje
She is not really in the line to succeed Yeddyurappa. And her proximity to the Karnataka Chief Minister may work against her. Ms Karandlaje belongs to the Vokkaliga caste.