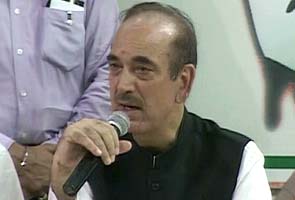 New Delhi:
Senior Congress leader and union minister Ghulam Nabi Azad is meeting DMK chief M Karunanidhi to try and bring the ally on board on the issue of Foreign Direct Investment or FDI in multi-brand retail.
At a dinner hosted by the Prime Minister for UPA allies last week, the DMK had suggested that a vote be avoided as its political constituency in Tamil Nadu is vociferously against FDI in retail; they said it will harm small retailers.
The DMK is now the second-largest party in the UPA after the Congress - it adds 18 Lok Sabha MPs to the government.
But the big question is will the government agree to a vote in Parliament on its decision to allow FDI in multi-brand retail? Sources have told NDTV that the government might agree to a vote. They say a final decision is likely to be influenced by how the resolution is worded. The government's managers have already begun speaking to different parties to shore up numbers.
The first two days of the Winter Session saw no work. The opposition, led by the BJP, has insisted that it will not allow Parliament to function if the government doesn't allow a vote.
The BJP, meanwhile, has hit out again at the Congress over FDI. "There is a larger opposition on FDI including Congress' own allies. Whenever Congress face trouble, criticism, embarrassment they misuse their powers," said Venkaiah Naidu, senior BJP leader.
The opposition claims that the government has gone back on its promise in Parliament that it would consult all political parties before making a decision on FDI in multi-brand retail. It points to statements on this made in both houses of Parliament by senior ministers last year. The government is expected to contend that it did consult key stakeholders like chief ministers and political parties.
The UPA government has so far played to that script. It has resisted putting its big policy decision through a vote in Parliament, saying that it was an executive decision that does not require Parliament's approval.
Though the government will not fall if it loses a discussion-and-vote in Parliament, it will be a crippling embarrassment as well as give the opposition an upper hand in its sustained refusal to accept FDI in retail. Apart from the DMK, there are others like the Samajwadi Party, which provides external support that is crucial after Mamata Banerjee's exit in September plunged the government into a minority. SP chief Mulayam Singh Yadav has been a vocal opponent of FDI in retail. His party has said it will not apply it in the state it rules - Uttar Pradesh. So Mr Yadav will find it difficult to support the government in a vote. His brother and senior party colleague Ram Gopal Yadav said yesterday that the SP wanted a discussion, vote or no vote.
The Trinamool Congress, which withdrew support to protest the UPA's reforms push, which included FDI in retail, on Thursday tried to move a no-confidence motion against Manmohan Singh government, but could not get 50 MPs to support the motion. Both the BJP and Left had made it clear that they would not support her motion. Will she support theirs? The Congress will want to know.