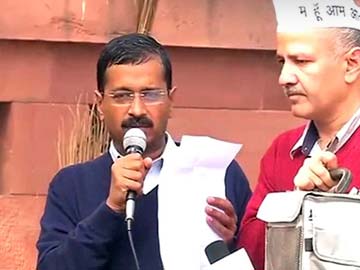 New Delhi:
Delhi Chief Minister Arvind Kejriwal today cited a Ugandan letter to defend Law Minister Somnath Bharti's widely condemned midnight raid targeting African women over allegations of sex and drug trafficking.
Mr Kejriwal said that a "woman from the Ugandan mission" had met Mr Bharti and praised his efforts, and handed over a letter that described trafficking of women from that country to India.
"The woman told Somnath Bharti 'you did very well, many women from our country are being trafficked'. She brought this letter," Mr Kejriwal said waving the letter as he addressed supporters to announce his protest demanding action against Delhi Police officers for not making arrests at Mr Bharti's instance.
The letter dated June 19, is reportedly a defence advisory written by 'Defence Advisor GJ Etyang' and addressed to the Chief of Military Intelligence in Ugandan capital Kampala.
Attached to it is the account of a woman who was allegedly duped into coming to India on 30 May. (
read letter
).
"The girl had hoped to be offered a job...only to be introduced into sex working (sic)" said the letter. "The purpose of this communication is to draw your attention and possibly interrogate the lady."
The AAP called the letter a validation of Mr Bharti's controversial raid on Wednesday night at Khirki Extension in south Delhi.
The foreign ministry said the Uganda High Commission's staff are currently not in New Delhi and warned the media against "giving credence to rumours."
The AAP, however, said they could identify the woman who came to them.
The Delhi Police yesterday registered an FIR, without naming anyone, after a Ugandan woman complained that a group of people from a political party broke into her house, threatened and molested her. Four African women were allegedly abused that night.
Two of them have alleged that the crowd forced them to urinate in public for samples to be tested for drugs, according to senior lawyer Harish Salve.