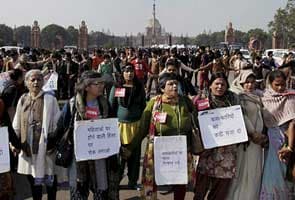 New Delhi:
The massive public protests that followed the savage gang-rape of a medical student in Delhi last month were justified, but there was an attempt by parties with ulterior motives to corrupt the movement, said Chief Justice of India Altamas Kabir.
Speaking to NDTV, he described the attack as "the most shameful thing that could have happened" and said he "salutes everybody who took part" in the protests that followed the heinous assault.
A few weeks ago, the chief justice inaugurated a fast-track court where five men accused of raping and murdering the student will be tried. They were brought to court today for pre-trial proceedings. The judge has ordered that their trial will be held behind closed doors, though their lawyers have petitioned for an open trial.
(Read: 'Amanat' case: trial in fast-track court will be held behind closed doors)
On December 16, a student and her male friend boarded a bus to head home after watching a movie at a South Delhi mall. The six men already on the bus, including the driver, sexually harassed the young woman and then hit her friend with an iron rod when he tried to intervene. The same rod was used on her before the men allegedly took turns to rape her. An hour later, they flung the couple onto the road.
Amanat (NOT her real name) died two weeks after the attack.
The monstrous contours of the attack and the multitude of lapses that allowed the bus to drive around South Delhi undetected while Amanat and her friend were being battered drove thousands of students and activists to the streets, demanding a swift trial for those accused of her murder and an overhaul of the ineffectual justice system which allows trials to stretch for years.
The government miscalculated the intensity of public anger and frustration, with senior ministers refusing to connect with the demonstrators. A weekend of protests in Delhi turned violent, with some in the massive crowd hurling stones at the police and setting a car on fire. The police retaliated, using water cannons, batons and tear gas on a massive crowd at India Gate, the heart of the capital.