Highlights
BJP is single-largest party in Uttar Pradesh, exit polls show
Very close call in Punjab, one poll forecasts AAP-Congress tie
BJP seen winning Uttarakhand, Goa and in Manipur 2 polls present conflict
New Delhi:
At 5.30 pm,
television channels began broadcasting exit polls for the five states
that have voted. The picture for Uttar Pradesh is clear - the BJP is ahead, based on an aggregate of the polls - whereas in Punjab, it's a very close call with one poll forecasting a perfect tie for the Congress and Arvind Kejriwal's Aam Aadmi Party. Uttarakhand has definitively picked the BJP, according to most polls; the party appears to have retained Goa; Manipur's decision is no clearer with exit polls - one shows the Congress holding the state, another shows it switching to the BJP.
Remember the usual health warning: exit polls often get it wrong. Results will be declared on Saturday, when you can watch election guru Prannoy Roy on NDTV, starting at 7 am on air and on our site and apps. For now, we're looking at the poll of exit polls for each state - the aggregate of different polls.
Who will win Uttar Pradesh which has 403 seats?
The majority mark is 202. The BJP gets 211 according to the poll of polls - that means it will form the government. Mayawati places third in all options.
Uttar Pradesh Chief Minister Akhilesh Yadav told BBC Hindi that he cannot rule out seeking a partnership with Mayawati, if his alliance with the Congress falls short. "I have always treated the BSP (Mayawati's party) with respect, so it's natural for people to assume we may seek her help. It's difficult to say at this point. I am confident the Congress-SP alliance will win...but look, nobody wants President's Rule, the BJP to run Uttar Pradesh by remote control."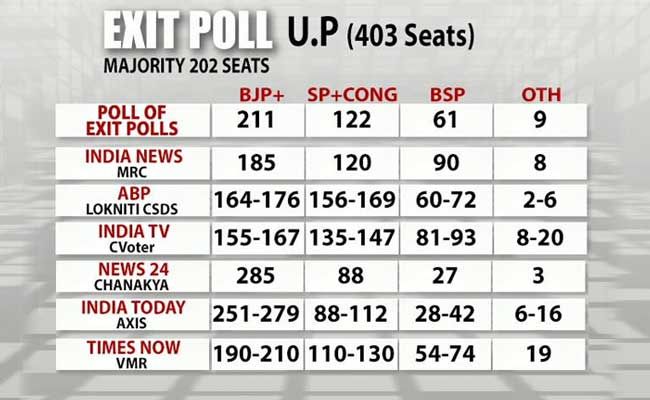 For Punjab, based on five exit polls
, it's nearly too-close-to-call. Two polls show the Congress winning, the other shows AAP ahead; two place the parties neck-and-neck. The aggregate shows the same with the Congress ahead by just two seats. The Akali-BJP incumbent alliance is demolished.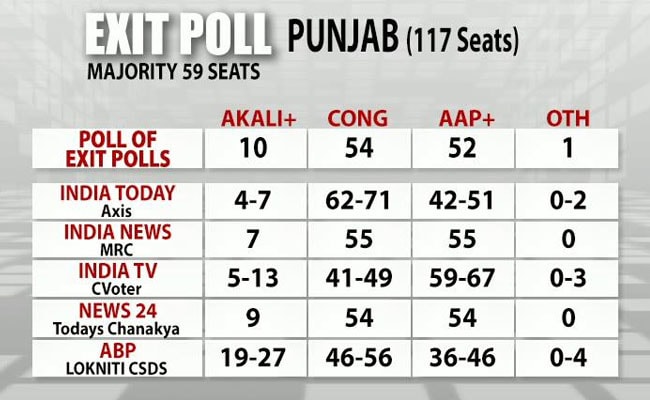 Uttarakhand, which has 70 seats
, is a landslide win for the BJP according to three exit polls, but a fourth poll shows the BJP and the Congress tied. The aggregate shows BJP decisively winning the hill state.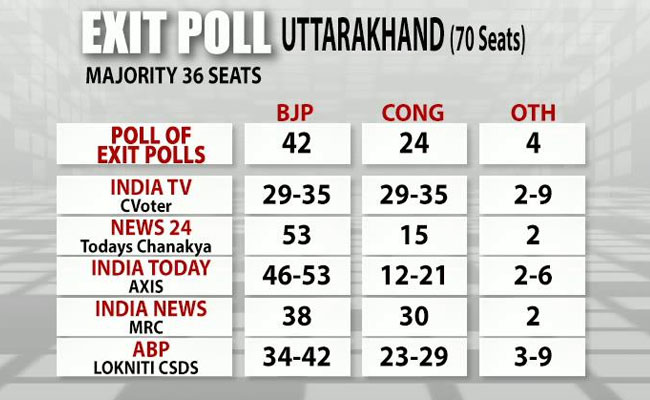 Three exit polls for Goa
, which has 40 seats show the BJP retaining the state.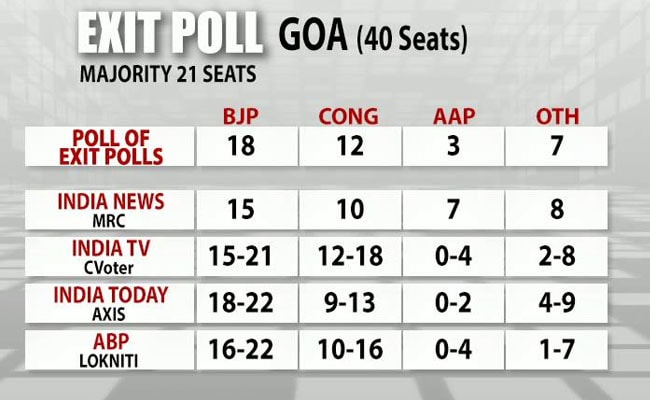 Manipur which has 60 seats
is forecast to pick the BJP in one poll, and the Congress in another.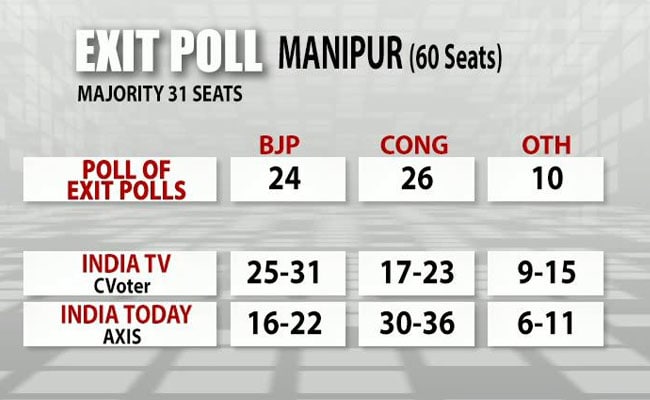 The election results will be used to measure Prime Minister Narendra Modi's popularity and his chances of returning for a second term in 2019. The BJP's performance will also be seen as a referendum on the PM's abrupt decision in November to ban high-denomination notes to crackdown on corruption and tax evasion.