Highlights
Open to partnership with Mayawati in UP if needed: Akhilesh Yadav
Poll of exit polls showed BJP getting 211 of UP's 403 assembly seats
Counting of votes will take place on March 11
New Delhi:
Chief Minister Akhilesh Yadav has done a neat u-turn today saying his Samajwadi Party is open to a partnership with arch-rival Mayawati in Uttar Pradesh if needed, even as a poll of exit polls this evening showed the BJP getting 211 of the state's 403 assembly seats, which would put it safely past the 202 needed to form government.
At 8.30 pm on Thursday, an aggregate of six exit polls showed the BJP getting 211, the Samajwadi Party-Congress 122 and Mayawati's Bahujan Samaj Party (BSP) 61 seats.
Two surveys helped the BJP past the halfway mark in the poll of exit polls by predicting a huge win for the party - India Today-Axis has predicted that the BJP will get between 251 and 285 seats, while News 24 - Today's Chanakya gives the party 285 seats.
Three other exit polls show the BJP well ahead of the other parties but falling short of 202, while one, by Times Now - VMR predicts the party will get between 190 to 210 seats, the upper end of which will give it a majority.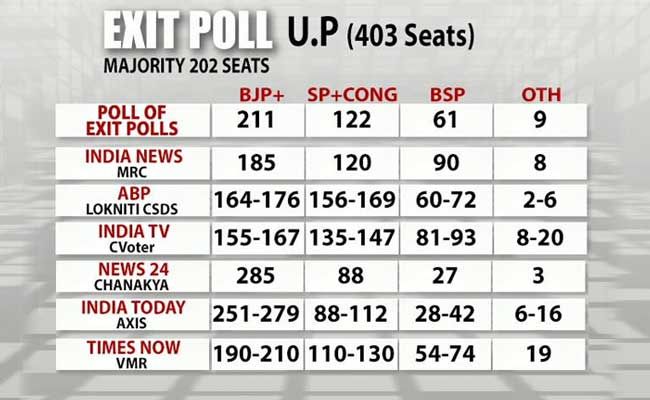 Akhilesh Yadav, who had only days ago emphatically ruled out a post-poll alliance with the BSP, has been quoted by
BBC Hindi
today as saying that if there is a hung assembly in the state on Saturday, when results will be announced, he will prefer a partnership with Mayawati's Bahujan Samaj Party over President's Rule in the state.
"I have always treated the BSP (Mayawati's party) with respect, so it's natural for people to assume we may seek her help. It's difficult to say at this point. I am confident the Congress-SP alliance will win...but look, nobody wants President's Rule, the BJP to run Uttar Pradesh by remote control," Mr Yadav said. In election speeches this year Ms Mayawati has attacked Akhilesh's father Mulayam Singh Yadav, but rarely the young Chief Minister.
Mr Yadav has been "changing his stand for the past six months," alleged senior BJP leader Om Mathur dismissing the possibility of a close contest. "The BJP will form government in UP with two-thirds majority. All polls indicate a change in UP," he said.
Rita Bahuguna, imported by the BJP from the Congress just before the elections, said her party will get "at least 240 seats in UP"
"Not fair to be so confident of a win even before the votes have been counted," said the Congress' Sachin Pilot, whose party has partnered with Akhilesh Yadav's Samajwadi Party for the UP elections.
The marathon UP election, held over seven rounds of voting, is seen as a bellwether for the 2019 national election. The BJP is seeking to form government after 15 years in the country's most populous state and did not project a presumptive Chief Minister, asking for votes for Prime Minister Narendra Modi's development agenda.
The result will also be seen as a referendum on PM Modi's notes ban in November last year, aimed at eliminating corruption and black money. It resulted in a cash crunch that rival parties made a core issue to attack the BJP with.
Akhilesh Yadav came out of a family feud that saw him dethrone his father Mulayam Singh Yadav as Samajwadi Party chief, to seek re-election in partnership with the Congress.
Results will be declared for UP and four other states on Saturday, March 11.
Health warning: Exit polls often get it wrong.