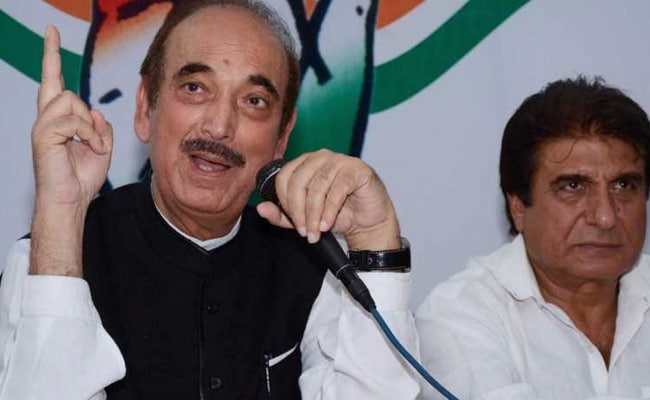 New Delhi:
The Congress has accused the government of "arbitrarily" taking away the chairmanship of a parliamentary panel on personnel, public grievances, law and justice from it, and sought a rethink on such allocations. In a strongly-worded letter to Parliamentary Affairs Minister Ananth Kumar, Leader of the Opposition in the Rajya Sabha Ghulam Nabi Azad objected to the fact that the party was not re-allocated the chairmanship of the Department Related Parliamentary Standing Committee on Personnel, Public Grievances, Law and Justice.
He demanded that the government reconsider the allocations. The government, however, justified the reallocation on the ground that after the change of strength of parties in the Rajya Sabha following recent elections, the Congress could retain the chairmanships of two committees, and not three.
In his letter, Mr Azad said, "In August, the government had informed that the Indian National Congress can retain the chairmanships of two committees in place of three in view of the changed party strength in the House."
"Though being the largest party in the House with a strength of 57, the Congress had reluctantly agreed to give up the chairpersonship of the committee on science and technology, environment and forests, and retain the chairpersonship of the committee on personnel, law and justice and the committee on home affairs," he added.
"The discretion to give up the chairmanship of a committee lies with us and the government cannot arbitrarily take away such chairmanship. This is against established parliamentary practices," the Congress leader said.
The Congress also disagreed with Ananth Kumar's argument that the chairmanship of the law and justice committee had always been with the ruling party. On this, Mr Azad said, "You (the minister) have conveniently chosen not to mention the period between 2014 and September, 2017 when the chairmanship of the law and justice committee was with the INC as earlier agreed between the government and the principal opposition party."
Further objecting to the allocation of chairmanship of the committee on commerce and industry to the BJP's ally Shiromani Akali Dal, Mr Azad said such reallocation could not be done as the SAD was part of the Union Cabinet.
"As per established practice, committees are allocated on the basis of strength of parties and not by clubbing together nominated and individual members," he said, demanding a reconsideration of the Rajya Sabha committee allocations.