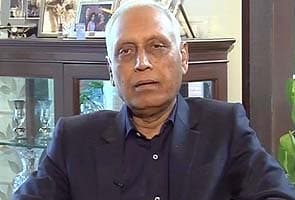 New Delhi:
Former Air Force chief SP Tyagi has denied that he accepted kickbacks in return for helping Italian defence giant Finmeccanica land a 4,000-crore deal from India for 12 VVIP helicopters. But an alleged middleman for helicopter manufacturer AgustaWestland, a subsidiary of Finmeccanica has said that he met Air Chief Marshal (retired) Tyagi six or seven times.
The former air force chief told NDTV yesterday that he met with an Italian named Carlos Gerosa, now accused of pushing bribes in India, once at his cousin's house. But Guido Haschke, another alleged middleman, has told Italian investigators that he met a few times with the retired Air Chief Marshal.
The retired air force chief told NDTV today that he would not like to comment on the alleged meetings, and that he will wait for a CBI inquiry to clear his name.
(Watch)
The CBI investigation was ordered by the Defence Ministry hours after Italian prosecutors arrested the CEO of Finmeccanica, Giuseppe Orsi, earlier this week for bribing officials in India to land the helicopter deal. The Italian report says that as Air Force chief, SP Tyagi accepted kickbacks through his cousins, Julie, Dosca and Sandeep Tyagi, who liaised with the manufacturer's middlemen.
The Italian inquiry's premise is that the former Air Force chief tweaked a tender or competitive bidding document to ensure it would be bagged by AgustaWestland. They say the revisions he introduced lowered the height at which the helicopters were required to fly from 18,000 to 15,000 feet. Another major change allegedly engineered by Tyagi was an engine failure flying test. This favoured AgustaWestland as its helicopters were the only ones in the tender operating with three engines.
However, the former Air Chief Marshal says that the changes that are being referred to were introduced in 2003, a year before he took office,and that the deal was signed in 2010, three years after he retired.
(Read: Didn't alter contract for money, says Tyagi)