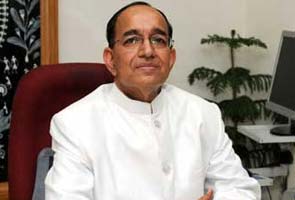 New Delhi:
In keeping with convention and the established procedure, VS Sampath the seniormost election commissioner, will succeed SY Quraishi as Chief Election Commissioner (CEC). Mr Sampath took over as election commissioner in 2009 and is expected to assume office as the CEC on June 10.
Mr Sampath will be the CEC overlooking the next general elections in 2014.
There have been eight CECs that have been appointed using this convention of the senior most election commissioner being appointed.
Sources tell NDTV that the President has signed the file and the notification is expected to take place tomorrow.
This appointment comes a few days after senior BJP leader LK Advani wrote to the Prime Minister seeking a change in the manner in which members are appointed to the election commission.
Mr Advani wrote stating that a collegium should select election commissioners. "The present system whereby members to the Election Commission are appointed by the President, solely on the advice of the Prime Minister, does not evoke confidence among the people,'' Mr Advani wrote.
Mr Advani said the selection committee should consist of the PM, the Chief Justice of India, the Law Minister and the Leader of the Opposition in both Houses of Parliament.
He got someunexpected support from M Karunanidhi, who is a senior partner in the UPA government. Mr Karunanidhi, who heads the DMK, said he agrees with Mr Advani's suggestion that the country's Chief Election Commissioner should be selected by a committee to ensure transparency and avoid partisanship.
Sources in the government say that while Mr Advani's letter is being given due consideration, they cannot allow the post to remain vacant.