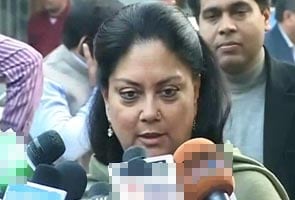 Jaipur:
Former Chief Minister Vasundhara Raje will lead the Bharatiya Janata Party (BJP) in the upcoming assembly elections in Rajasthan, party president Rajnath Singh announced today. Mr Singh said today that the BJP has appointed Ms Raje as its chief ministerial candidate and the new president of the party's Rajasthan unit.
"I welcome the party's decision. BJP is a family. We all have to be together. Everyone has a role to play. We will all strengthen the party in Rajasthan," Ms Raje said after her name was announced by Mr Singh in New Delhi.
The BJP core group had met in New Delhi yesterday and sources say that top leaders had agreed in principle on Ms Raje's name. Mr Singh also held a meeting with party leaders from Rajasthan before making the announcements.
Ms Raje was the chief minister of Rajasthan from 2003 to 2008. After her government was voted out in the previous state elections, Ms Raje was reportedly unhappy with the top leadership of the BJP for not being given prominence. Last year, she had also threatened to quit the party.
It was Rajnath Singh who in his previous term as the BJP president had reportedly asked Ms Raje to step down as the leader of the opposition in 2009. Mr Singh, who took over the BJP president's post from Nitin Gadkari last month, today declared Gulab Chand Kataria as the new leader of opposition in the state assembly.