Varanasi:
A top official of the
Banaras Hindu University (BHU)
has resigned in the middle of turmoil over student protests and a controversial police crackdown in which a woman student was beaten up. Professor ON Singh, Chief Proctor, quit citing "moral grounds" after a
government report blamed the university
for poor handling of the crisis.
An officer asked to investigate the violence by Uttar Pradesh Chief Minister Yogi Adityanath said the university authorities did not deal "sensitively" with the complaint of a woman that she was molested on campus, which led to massive student protests.
It was during the protests that a woman student was beaten up by cops called in by the university on Saturday night when students demanded to meet the Vice Chancellor. A mobile video shows the woman on the ground as she is beaten with sticks by policemen. The clip went viral and triggered outrage;
Prime Minister Narendra Modi and BJP chief Amit Shah both spoke to Uttar Pradesh Chief Minister Yogi Adityanath.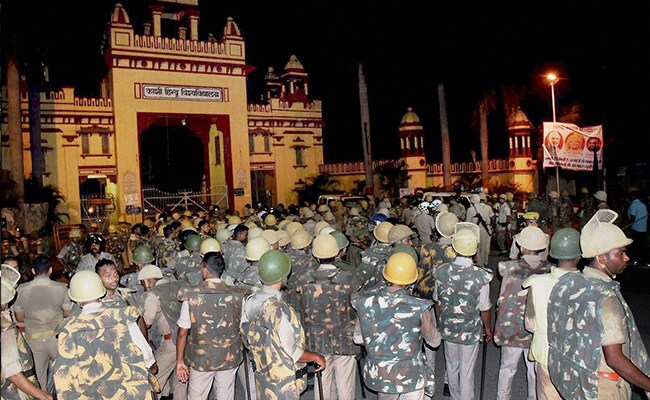 When the affected students had reported a specific case to the university authorities, it needed sensitive handling at the point of time. That was possibly not done. Because of that, the situation got aggravated," Varanasi Commissioner Nitin Gokarn told NDTV. "I am talking of the sensitivity of the first responders -- they should have acted properly."
The university also didn't act to save the situation when it threatened to go out of hand, said the early report submitted to the state government.


The university's Vice-Chancellor Girish Chandra Tripathi told NDTV that the woman's complaint was
"simple eve teasing"
which was "deliberately staged a day before the Prime Minister's visit". The protests were politicized, he said, linking them to the two-day visit of PM Modi to Varanasi, his parliamentary constituency.
Mr Tripathi refused to comment on the commissioner's report.
Get Breaking news, live coverage, and Latest News from India and around the world on NDTV.com. Catch all the Live TV action on NDTV 24x7 and NDTV India. Like us on Facebook or follow us on Twitter and Instagram for latest news and live news updates.