Varanasi:
Highlights
BHU Vice Chancellor said, the "incident was deliberately staged"
Protests started over allegations of lack of safety in campus
He also suggested that the issue is being politicised
The alleged sexual harassment of a woman student at the Banaras Hindu University (BHU), which provoked massive protests and a controversial police crackdown on students, was a "a simple case of eve teasing", the university's Vice Chancellor has said.
Girish Chandra Tripathi has also alleged that the "incident was deliberately staged" a day before Prime Minister Narendra Modi's visit to Varanasi, which is his parliamentary constituency.
The students' protest that followed the incident exploded after a widely-shared mobile video showed policemen charging towards women protesting at the gates of a hostel on Saturday. A policeman is seen pushing a woman student, who falls to the ground. Two other cops then begin thrashing her with lathis.
Amid anger over the display of police high-handedness
, Prime Minister Narendra Modi and Amit Shah, the chief of the ruling BJP, also spoke to Uttar Pradesh Chief Minister Yogi Adityanath. Two policemen and an officer have been removed and an inquiry has been ordered into the video.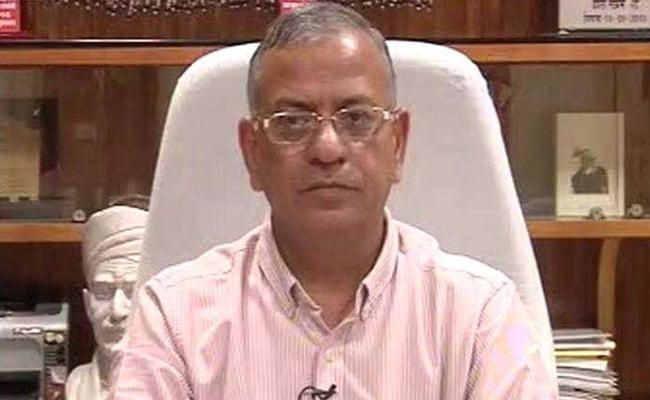 Professor Tripathi, however, says the student protests are over a minor incident.
"This was not a case of molestation, this was a simple case of eve teasing that was deliberately staged a day before the Prime Minister's visit," he told NDTV.
The Vice Chancellor has been criticised for not acting on the complaint by the women students and going for victim-shaming instead. "It is high time that the system of male patriarchy ends in this campus. Sometimes we are asked questions even if we want to go out of out of our hostels at 6 pm. Why and how can someone do that," said a student at a girls hostel inside the Mahila Mahavidayala campus at the BHU.
The opposition has sharply criticised the centre and the state government.
Taunting the BJP with its slogan "Beti Bachao, Beti Padhao"
, Congress Vice President Rahul Gandhi said, "Modiji should apologise to the students of BHU and take immediate action".
Suggesting that the issue is being politicised, Mr Tripathi said, "I am of the opinion that institutions should not be made platforms for practising politics for different parties. I met the student concerned. She too is criticising the protest. She says the issue is being politicised."
He also attributed the trouble in BHU to a "mindset to disturb institutes of higher learning" and referred to the Jawaharlal Nehru University and Delhi University.
Get Breaking news, live coverage, and Latest News from India and around the world on NDTV.com. Catch all the Live TV action on NDTV 24x7 and NDTV India. Like us on Facebook or follow us on Twitter and Instagram for latest news and live news updates.