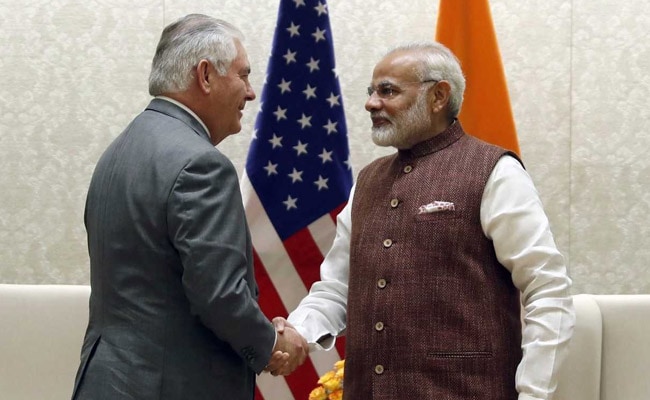 New Delhi:
US Secretary of State Rex Tillerson today said the US will provide India with best technologies for its military modernisation which include offers to supply F-16 and F-18 fighter jets.
After holding wide-ranging talks with External Affairs Minister Sushma Swaraj, Mr Tillerson said the US supports India's emergence as a "leading power" and it will continue to help New Delhi strengthen its military capability. "The US supports India's emergence as a leading power and will continue to contribute to the Indian capability to provide security throughout the region," he said addressing a
joint press conference with Ms Swaraj.
In the talks, both the sides deliberated extensively on further enhancing bilateral defence and security ties as well as ways to deal with challenge of terrorism in the region. "We are willing to provide India best technologies for its military modernisation efforts which include ambitious offers by American industry for F-16 and F-18 fighter planes," said Mr Tillerson.
Meanwhile, Defence Minister Nirmala Sitharaman held a bilateral meeting with US Defence Secretary James Mattis on the sidelines of a meeting of ASEAN defence ministers in Clark in the Philippines.
A host of issues relating to defence and security cooperation was discussed at the meeting, officials said here.
Mr Mattis had visited India last month, in first cabinet-level visit to India under the Trump Administration, and both sides then had decided to accelerate the pace of India-US defence cooperation.
After the visit, Mr Mattis had said there is a "generational opportunity" between the two largest democracies of the world to work together.
The defence and security ties between India and the US have been on an upswing.
The Trump Administration had last month told the US Congress that defence cooperation with India would be an important pillar in the bilateral relationship as it needs the country to be a net security provider in the Indo-Pacific region.
It had also informed the Congress that it "strongly supports" transfers of F-18 and F-16 fighter proposals put forth by Boeing and Lockheed Martin respectively. Both the companies have offered to assemble these planes in India.
India was granted the 'Major Defence Partner' status by the previous Barack Obama Administration, providing for transfer of technology and deeper cooperation in the defence sector.
Last year, India and the US had signed a crucial logistics defence pact enabling their militaries to use each other's assets and bases for repair and replenishment of supplies, making joint operations more efficient.