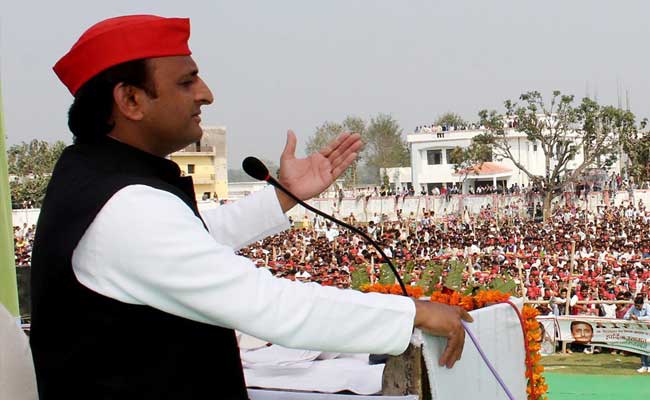 Bhadohi:
Uttar Pradesh Chief Minister Akhilesh Yadav could end up on the wrong side of the Election Commission after he said at a poll rally in eastern Uttar Pradesh today that voters who are being bribed by other parties should keep the money but vote for his Samajwadi Party.
"I heard that voters are being given money. My advice to you is to keep the money and vote for the bicycle (Samajwadi Party's election symbol)," Mr Yadav said in Bhadohi, taking a jibe at his political rivals. Last month, the Election Commission had ordered the Goa poll authorities to register a
police case against Delhi Chief Minister and Aam Aadmi Party chief Arvind Kejriwal
for making similar remarks at an election rally in Goa.
Akhilesh Yadav, 43, today also challenged Prime Minister Narendra Modi, whose BJP has put up a fierce fight against the Samajwadi Party in the ongoing assembly elections, to list out the work done by him.
"I told you about 10 works done by my government. Can he (Modi) list 10 works? I am ready to give the performance report of my five year government. But, he should give the report of three years of rule at the Centre," the Uttar Pradesh chief minister said.
Mounting his attack on Bahujan Samaj Party chief Mayawati, Mr Yadav said, "She got her memorials made even when she was alive. Now her language has undergone significant change, she is also speaking the language of development. But, since she reads out her speech, people listening to her tend to fall asleep."
"She (Mayawati) is my bua (aunt), but she may go for Rakshabandhan (possible post-poll alliance with BJP). Hence, you have to be very careful," he alleged.
Six of the seven phases of polling in Uttar Pradesh have wrapped up and high-pitched campaigning for the last phase is currently on. Prime Minister Narendra Modi, Akhilesh Yadav and his alliance partner Rahul Gandhi today held roadshows in Varanasi, the PM's constituency which votes on Wednesday. Mayawati too held a rally not far away, slamming both the SP and the BJP, saying they were fighting for second and third spot in UP.
With inputs from PTI